Despatch Walk-In Ovens to be Delivered at Warp Speed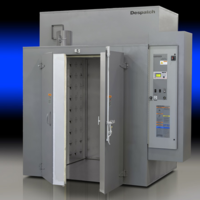 Minneapolis, Minnesota, USA, January 19, 2021 – With the COVID 19 virus ravaging the nation, the need to get vaccine manufactured at 'warp speed' is critical to save lives. When a vaccine manufacturer needed walk-in ovens for a drying application, lead time was a critical factor in their purchase decision. ITW EAE was able to commit to a significantly shorter lead time than competitors through our streamlined production line and some creative engineering to meet the customer's technical requirements.
The Despatch TFD3-10 walk-in ovens that the customer purchased feature horizontal recirculating airflow to ensure uniform temperatures throughout the oven. A high-volume fan circulates air through perforated, aluminized steel walls to create a constant horizontal airflow across all sections of the oven. The customer's application involves drying flammable solvents which require Class A ovens designed to meet NFPA 86 requirement. The oven comes complete with a pressure relief panel, purge timer, and exhaust fan.
 "We have optimized our manufacturing processes to allow for in-lining of production equipment and assembly stations that has improved flow and minimized production time," states Jeff Bell, Despatch Product Manager. "Our customers appreciate shorter lead times, and in this case, it may actually save lives."
Despatch is a brand of ITW EAE, a division of Illinois Tools Works, Inc. They are a global leader in high performance industrial ovens and other thermal products used for a host of critical applications, focusing on the electronics, healthcare, materials, transportation and industrial markets. Despatch also serves as a key provider of integrated technology for the emerging solar and carbon fiber markets. For more information about Despatch visit www.despatch.com.
Contacts:
Roger Dullinger, Marketing Communications Manager
(952) 469-8278, Roger.Dullinger@itweae.com
Related