Despatch's Cabinet Oven comes in 20 in. wide.
Press Release Summary: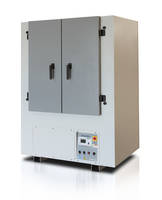 Despatch's Cabinet Oven is available in RAD2-19 and RFD2-19 versions. Unit comes with control option at the bottom. RAD2-19 cabinet oven features 19.5 cubic foot chamber and a maximum temperature of 650°F. Meeting NFPA 86 requirements, RAD2-19 version offers horizontal recirculating airflow and is suitable for curing, drying, stress relieving, aging, and process-critical applications.
---
Original Press Release:
Despatch Introduces New Cabinet Oven Design to Meet Demands from Customers for a Smaller Footprint
Despatch has redesigned its RAD2-19 and RFD2-19 Cabinet Ovens to accommodate customer demands for a smaller footprint. The original design of these cabinet oven had the controls on the side of the oven. The new design has the controls on the bottom of the oven which significantly reduces the amount of floor space that the oven requires. The new design is has a width that is 20 inches less wide than the previous model.
"Having the controls up at eye level was a convenience in the old design but customers ensured us that saving space was more important to them," said Jeff Bell, Director of Product Management at Despatch. "We tilted the Protocol 3 controller up towards the operator for easier access. And for customers who have more frequent interaction with the controls, we offer software which allows the oven to be controlled from a laptop computer."
Despatch RAD2-19 cabinet oven has a 19.5 cubic foot chamber and a maximum temperature of 650°F. It features horizontal recirculating airflow to ensure exceptional temperature uniformity throughout the oven. The result is proven reliability in demanding production and laboratory applications, such as curing, drying, stress relieving, aging, and other process-critical applications. The RFD2-19 is a Class A model designed to meet NFPA 86 requirements for applications that include flammable solvents or large amounts of moisture removal.
Despatch is a member of ITW EAE, a division of Illinois Tools Works, Inc. They are a global leader in high performance industrial ovens and other thermal products used for a host of critical applications, focusing on the electronics, healthcare, materials, transportation and industrial markets. Despatch also serves as a key provider of integrated technology for the emerging solar and carbon fiber markets. For more information on Despatch visit www.despatch.com.
Contact This Company Download Spec Sheet
More from Thermal & Heating Equipment