Desktop VMware-Ready Zero Clients are available with DVD drives.
Press Release Summary: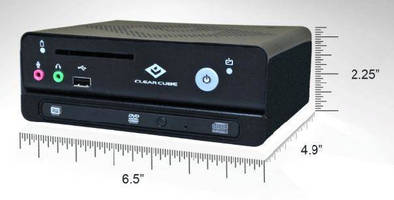 By featuring USB 2.0 DVD Read/Write drives, Zero clients accommodate users who need DVD drives to read files for transfer from one location to another via DVD discs. This option is available in CD9924 and CD7924 models, which feature 6 USB ports and integrated smartcard readers, as well as CD9922 and CD7922 (without integrated smartcard readers). Desktop devices communicate with datacenter backend processing resources over Ethernet network connections and feature PCoIP protocol.
---
Original Press Release:
ClearCube's New Zero Clients with DVDs
AUSTIN, TX – ClearCube Technology announced that it has introduced the industry's first VMware-ready zero clients that ship with USB 2.0 DVD Read/Write drives.

Zero clients are desktop devices that communicate with datacenter backend processing resources such as virtual desktops or Blade PCs over Ethernet network connections.  Zero clients have no operating systems, memory or storage, and feature highly efficient PCoIP protocol that is supported by VMware's Virtual Desktop Infrastructure software program, Horizon 6.

Zero clients offer connections for displays, mice, keyboards and other USB devices, but ClearCube is the first to tightly couple DVD drives to their zero client devices.

ClearCube has many customers who need to use DVD drives to read files that are transferred from one location to another via DVD discs.  The largest market segment is healthcare, where radiology imagery, X-rays, digital scans, and new patient records are transferred and read via DVD media.  Other use cases have been identified in transportation, manufacturing, and government market segments.

"Our customers asked ClearCube to bundle DVD drives with zero clients as an option.  Our agility and willingness to take on customer challenges greatly simplifies product selection and purchasing processes for our customers," said Jim Zakzeski, ClearCube VP Federal Sales and Marketing.

ClearCube's engineering department tested many different DVD devices to find the best performing, best price value DVD drive to integrate with its Cloud Desktop family of zero clients.  The final selection is a DVD drive that claims to be the world's lightest weighing only 220 grams.

To optimize the combined footprint, a special mounting carriage has been designed to combine the DVD drive with the several different ClearCube zero client models.  This drive is included as an option in ClearCube's most popular zero client models -- CD9924 and CD7924 zero clients -- that feature 6USB ports and integrated smartcard readers.  Models CD9922 and CD7922 without integrated smartcard readers are also supported.

ClearCube Zero Clients are assembled and tested in the U.S. and are fully TAA-compliant.

About ClearCube Technology, Inc.
ClearCube Technology invented the centralized computing industry with the first blade PC and continues to drive centralized and virtualized computing innovation with the broadest set of specialized PCoIP desktop zero clients that connect to optimized SmartVDI compute/storage host platforms for task/knowledge users and PCoIP blade PCs and engineering workstations for power and highly specialized users.  End points include TEMPEST Level 1 and Level 2 zero clients, copper/fiber connected with integrated CAC and SIPR token readers and multi-level security zero clients. All ClearCube products are designed for seamless integration with the VMware Horizon family of virtualization products.  ClearCube's widespread adoption at 1000s of federal and commercial locations is based on our ability to meet cost savings and security requirements for ALL use cases involving centralization and virtualization initiatives.

Release online: http://www.clearcube.com/company-news%20release-09-21-2015.html

Images:
· ClearCube Logo:  http://www.clearcube.com/images/large-logo-blue-transparent.gif
· CD9924 Zero Client with DVD Image: http://www.clearcube.com/images/CD9924-ruled.png
· Rear shot – Quad Display CD9742 Zero Client with DVD Image: http://www.clearcube.com/images/Rear-Quad-CD9742-DVD-addition.png

Datasheets:
· CD9924 Zero Client with integrated CAC reader and 6 USB ports -  http://www.clearcube.com/downloads/DS_Zero_Client_CD9924_20150914_Rev%20C.pdf
· Zero Client with DVD datasheet - http://www.clearcube.com/downloads/DS_Zero%20Client%20DVD%20Accessory%20Bundle%2020150914_Rev%20A.pdf

Media Contact:
Jim "Zak" Zakzeski
VP, Sales & Marketing
512.652.3500
james.zakzeski@clearcube.com
More from Agricultural & Farming Products