Desktop Tower NVRs serve surveillance applications.
Press Release Summary: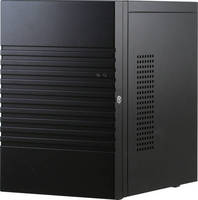 Respectively supporting up to 25 and 16 TB of storage, mid-range NVR-B75 and entry-level NVR-CV capture video and utilize compression technologies that enable network access to remote feeds. NVR-B75 leverages Intel® Core™ i3/i5 processors, B75 Chipset, and up to 16 GB DDR3 1333/1600 Hz Non-ECC memory, while NVR-CV is powered by up to 1.83 GHz Intel Atom™ Dual Core D2250 processor with Intel ICH10R chipset. Both have hot-swappable designed HDD trays and multiple connectivity options.
---
Original Press Release:

AAEON Announces Latest Two Intel® PoE Desktop Tower NVR Systems, NVR-B75 & NVR-CV



From Entry-Level to Mid-Range, PoE Camera Support for Surveillance Market



Taipei, Taiwan – AAEON, a major developer of industrial computing solutions, today announces the release of the new mid-range NVR-B75 and entry-level NVR-CV Desktop Tower Network Video Recording Systems to meet a wide range of surveillance application needs.



With the rapid development of Full HD image display technologies recently, the sizes of recorded surveillance video files are getting larger than before. A quality NVR system is often required to run 24/7/365, which makes the storage capacity a key factor when critical events occur. To preserve key surveillance video data for future investigation, the data retention period and storage capacity of hard disks become a very crucial part for today's surveillance video recording systems. To meet this data retention demand, AAEON is pleased to present the new NVR-B75 and NVR-CV desktop tower NVR systems that support up to 25TB and 16TB storage capacity, respectively. The hot-swappable designed HDD trays of both NVR-B75 and NVR-CV also offer customers the convenience of both increasing and replacing the storage devices.



NVR systems not only capture high resolution videos but also utilize advanced compression technologies that enable network access to remote video feeds for immediate access and analysis. Following the previous AAEON NVR systems' excellence, the new high performance NVR-B75 also meets and exceeds the requirements of the surveillance industry's most demanding applications, to date. Powered by Intel's robust CoreTM i3/i5 Series processors, along with the B75 Chipset and up to 16GB of DDR3 1333/1600Hz Non-ECC Memory, the NVR-B75 provides intelligent recording functions and offers network access features. Through the assistance of NVR-B75's high performance, video analytics can be realized without additional cost and effort. Captured video data can be analyzed and used for a variety of business operations – from marketing to security and supply chain optimization.



Targeting the mid-range surveillance application market, the NVR-B75 not only offers high-performance through its powerful CPU, but also provides sufficient storage capacity as a reliable database. The NVR-B75 features five hot-swappable 3.5" SATA HDD Bays and one 3.5" internal HDD bracket for OS and other system applications, supporting up to 25 TB storage capacity. This expanded and more versatile memory system affords ease of operation and virtually eliminates maintenance-based system downtime. RAID 0/1/5/10 are supported to provide parallel storage back-up protection to valuable saved data. Rich connectivity and plug-and-play options are available such as two USB 2.0 ports, four USB 3.0 ports, one VGA port, three HDMI ports and two high speed 10/100/1000Base-TX Ethernet ports, in addition to a PCI-E to SATA 3.0Gb/s port conversion card.



To further compliment the NVR series, the NVR-CV is more compact in size and is designed to meet the requirements of entry-level surveillance markets. It adopts integrated Intel AtomTM Dual Core Processor D2250 (up to 1.83GHz) with Intel ICH10R chipset, showing sufficient capability for surveillance video capturing and processing. The NVR-CV features four hot-swappable 3.5" or 2.5" SATA HDD Bays for OS and other system applications, supporting up to 16 TB storage capacity. It affords ease of operation and virtually eliminates maintenance-based system downtime. RAID 0/1/5/10 are also supported to provide parallel storage backup protection to valuable saved data. Rich connectivity and plug-and-play options are available such as six USB 2.0 ports, two COM ports, one VGA port, one DVI port and two high speed 10/100/1000Base-TX Ethernet ports in addition to a PCI-E [x4 expansion slot.



"The NVR-B75 is suitable for the use of small-size to mid-size surveillance application business such as Retail industry, POS Banking and Smart Building surveillance. The NVR-CV also focuses on small-size surveillance applications such as Convenience Stores, Cashier Monitoring and Small Office/household surveillance requirements," states Wayne Chen, CTO of AAEON. "Offering a good balance between performance and cost, AAEON's NVR-B75 and NVR-CV are ideal network video recording solutions for surveillance application markets."



For more product and service information, please contact one of AAEON's regional sales representatives or visit www.aaeon.com.



About AAEON

AAEON is a leading manufacturer of advanced industrial and embedded computing platforms. Committed to innovative engineering, AAEON provides integrated solutions, hardware and services for premier OEM/ODMs and system integrators worldwide. Reliable and high quality computing platforms include industrial motherboards and systems, industrial displays, rugged tablets, PC/104 modules, PICMG half-size and full-size boards and COM modules, embedded SBCs, embedded controllers and related accessories. AAEON also offers customized end-to-end services from initial product conceptualization and product development on through to volume manufacturing and after-sales service programs. AAEON is an Associate member of the Intel Intelligent Systems Alliance.



Intel and Intel Core are registered trademarks of Intel Corporation in the United States and other countries.



Press Contact

AAEON Technology Inc.

David Chen

TEL: +886-2-8919-1234 # 1113

Email: davidchen@aaeon.com.tw

More from Agricultural & Farming Products