Desktop Printer produces labels up to 1 in. wide.
Press Release Summary: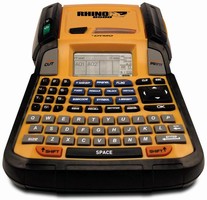 Offering PC connectivity, RHINO 6500 supports needs of electrical, datacom, security, construction, and MRO markets. Included RHINO CONNECT(TM) software aids label creation, while batch printing lets users download, print, and cut large labeling jobs. Along with library of 250+ categorized industry terms and symbols as well as built-in memory to store 1,000+ custom labels, printer features hot keys for instant formatting, motorized auto-cutter, and QWERTY keyboard.
---
Original Press Release:

RHINO Professional Labeling Tools Launches Its First Desktop Labeling Solution



RHINO Professional Labeling Tools is proud to announce the release of the RHINO 6500 desktop labeling solution, its newest and most powerful label printer and RHINO CONNECT(TM) Software bundled together. Built from the ground up to support the demanding labeling needs of the electrical, datacom, security, construction and MRO markets - and others - the RHINO 6500 delivers an ultra-powerful assortment of exclusive features at a very affordable price.

The RHINO 6500 offers the same advanced features as the recently launched RHINO 6000, plus additional functionality and a desktop orientation that expands usability to new customers, markets, and applications not previously served by the existing RHINO product line. One of the major new capabilities of the RHINO 6500 is batch printing, which allows users to easily download, print, and automatically cut large labeling jobs - ideal for preparing labeling kits for manufacturing environments and multiple site cabling installations.

"At RHINO, we are passionate about understanding what users want and need in professional labeling solutions," stated Douglas Waldal, Global Business Unit Director of RHINO. "The RHINO 6500 Labeling Bundle is an innovative, value-added product that helps users improve efficiency, save time and money, and make their work look more professional. Once again, our users have helped us develop a revolutionary product - one that we feel truly positions RHINO Labeling Tools as the best value in the market today."

Like the RHINO 6000 hand held label printer, the desktop RHINO 6500 printer features PC connectivity for increased versatility. This allows users to create label files on their computer using the included RHINO CONNECT software or other Windows®-compatible software (i.e. Excel) and print directly to the RHINO 6500 or download the file for use at the jobsite. This feature is especially useful for electrical panel assembly, cable harness shops or multi-building/site projects that require all labels to be consistent and uniform. Other features of the RHINO 6500 include a library of over 250 categorized industry terms and symbols, plus built-in memory to store over 1,000 custom labels including terms, symbols, graphics, and even logos.

Creating nearly any type of label is quick and easy with the RHINO 6500. RHINO's patented "Hot Keys" allow instant formatting of horizontal and vertical cable wraps, wire flags, fixed length, vertical, patch panel, terminal block, serialized, reverse-serialized, barcode and other label types. These advanced "Hot Keys" allows users to create complex labels with only a few keystrokes, reducing labeling time and making the labeling task as simple as possible.

Mechanically, the RHINO 6500 is also superior to other label printers. It is designed with features such as a large backlit screen with multiple label display, motorized auto-cutter, industrial casing with an integrated protective bumper and easy label access, label cartridge size sensor, automated label cartridge insertion/ejection system, and a user-friendly QWERTY keyboard. It also handles industrial-strength RHINO labels up to 1" wide.

Rafael Martinez, Product Manager for RHINO explained the development of the RHINO 6500 label printer. "Our RHINO product line continues to add advanced features and capabilities due largely to our in-depth market research. Personal interviews, user involvement in the product development stage, and comprehensive beta-testing and improvement processes ensure that we are designing and engineering the label printers that customers want and need. The RHINO 6500 is a prime example of that and the powerful features we have added to this printer came directly from user input."

The RHINO 6500 label printer retails for $349 and includes RHINO CONNECT labeling software, labels, USB cable, AC adapter and a quick-charge lithium-ion rechargeable battery. Visit www.rhinolabeling.com for more information on the RHINO 6500 desktop label printer and to find a distributor near you.

More from Packaging Products & Equipment