Desktop Monitor Mount facilitates information sharing.
Press Release Summary: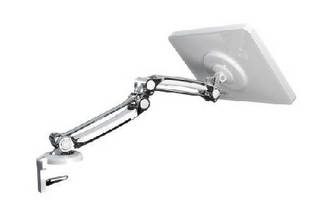 Featuring counterbalanced upper and lower arms that move independently of each other, Levitate Mount allows height and reach positioning, rotation, pan and tilt for desktop displays without user adjustments. Lower arm offers optional 180° limited rotation, preventing collision with partitions and walls in desktop environments. For aesthetics, Levitate includes cable management system that hides wiring through integrated channel. Various colors and finishes are available.
---
Original Press Release:

Radical New Monitor Mounting Design by Atdec Re-Defines Workplace Aesthetics



Ultimate marriage of form and function is a stunning artistic achievement and sets a new benchmark in industrial design

Sydney, Australia, - The desktop monitor has become the focal point of much of our work lives, not to mention our link to much of the outside world. Atdec believes that this window has been static and confining for too long, and has designed a dramatic new mounting concept that allows computer monitors to be adjusted to the most ergonomic position for the user or shared with co-workers with the touch of a finger. In doing so, the company has made sharing an electronic display as easy as sharing a paper printout, while bringing elegant, forward-looking aesthetics to any desktop environment.

For designer Simon Duff, Levitate was more than just an industrial design challenge. It was a chance to alter the very nature of the workplace itself, allowing information to be viewed and shared easily among groups, rather than confined to a single individual. By combining innovative new techniques in functionality with a fresh, futuristic look, Duff and Atdec have created a stunning new paradigm in desktop monitor mounts, an increasingly important product category previously characterised by unattractive and immobile hardware that was difficult to adjust and an eyesore to behold.

Levitate is unique in that it allows simple, convenient height and reach positioning, rotation, pan and tilt for desktop displays without cumbersome user adjustments. Key to its unique range of movement is the ability for its counterbalanced upper and lower arms to move independently of each other, which allows a wider range of movement that can be achieved in seconds. The lower arm offers optional 180 degree limited rotation; preventing collision with partitions and walls in desktop environments. Unlike conventional mounts, which are based on a simple "pole" concept, Levitate allows even large format displays to be adjusted easily from a sitting position, thanks to its dual-arm, counterbalanced engineering. This unique approach yields a striking form factor much like a fine desk lamp, rather than the usual indifferent metal tube.

Aesthetics are a key value proposition for Levitate, which not only offers clean lines and minimal hardware clutter, but also a thoughtful cable management system that hides unsightly wiring through an integrated channel. Different colours and finishes will be offered, allowing Levitate to provide any decor or architectural environment with a great new look.

Installation has also been made radically easier and more versatile. Unique to Levitate, the desk clamp is fitted and tightened from above the desk so no need to get on your hands and knees under the desk to install the product. In addition, Levitate ships with both the desk clamp and a bolt through option for different installation requirements. To assist in large projects, a visual gauge on the arms allows the counterbalance adjustments to be calculated once according to the screen weight and then replicated en masse for the remainder of the mounts to be installed.

In keeping with the movement toward a greener planet, Levitate has also been designed with complete environmental responsibility in mind. Each of its parts is recyclable and can be broken down into their individual base components. No hazardous or VOC emitting materials are used and raw metal finishes are maximised. Even its packaging is designed for the use of recycled paper pulp and recyclable paper material wherever possible.

Atdec's Levitate will launch at the bi-annual ORGATEC trade exhibition, which will be held October 26-30 in Cologne, Germany.

About Atdec

Atdec is a leader in the visual display mounting industry committed to bringing to market best-of-breed visual mounting display products that offer the highest levels of innovation, ease of installation and quality. Unique features and product flexibility make Atdec's products ideal for a broad range of applications in various markets including: commercial space, POS, home entertainment, office, education, digital signage, healthcare, and the audio and visual marketplace. All Atdec products are Designed for Disassembly (DFD) which means they are made to be taken apart easily for recycling at the end of life. Atdec offers a free return policy at the end of product life.

More from Sensors, Monitors & Transducers