Desktop Engraver employs laser and diamond drag methods.
Press Release Summary: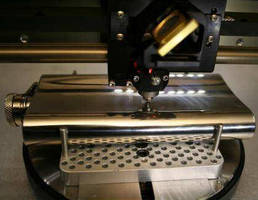 Able to handle diverse material range, Duo combines laser engraving and cutting of CO2 laser with diamond drag engraving capability of rotary engraver. It is encased in monocoque design with access panels and features color touchscreen control pendant. Other features include 4¾-6¾ in. of z axis clearance and 75 ips raster engraving capability. Also provided, XGW-32 professional engraving application software enables laser raster, laser vector, and diamond drag engraving in same job.
---
Original Press Release:

Xenetech Begins Shipments of First 'Duo' Laser and Diamond Drag Desktop Engraver



Baton Rouge, La. - Xenetech announced today that the company has begun shipping the industry first Duo desktop engraver. The Duo combines the laser engraving and cutting of a CO2 laser with the diamond drag engraving capability of a rotary engraver into one system. Xenetech first introduced the technology a year ago in a pre-production model and Xenetech personnel spent the last year showing the technology at trade shows and distributor sites gathering customer feedback from around the world. Xenetech's new "Duo" will enable engraving on a wide variety of materials including reflective metals - aluminum, brass, silver, gold, stainless steel, plastics, wood, acrylic, leather, glass, coated metals, and more. The company believes this technology is the first of its kind in the world and has a patent pending.

The Duo fits on a desktop and is now encased in a durable monocoque design with easy access panels. It features a color touch screen control pendant with job preview, pan and zoom, a sturdy four-point leadscrew/rail table mount, 4 ¾" to 6 ¾" of z axis clearance (varies with lens choice and diamond drag), an optional cylindrical attachment, our patent pending dual laser and diamond drag capable motion system, a rigid, extruded x-axis with polymer bearings, and 75 inches per second raster engraving capability. Each system will ship with a copy of XGW-32 professional engraving application software which enables laser raster, laser vector, and diamond drag engraving all in the same job. In addition, a laser print driver will be available for use with third party design software such as CorelDraw®. The Duo is available with 30/35 watt and 40/45 watt CO2 laser tubes.

"In our discussions with customers a common theme has emerged - users want the capability to engrave, cut, and mark more materials with one machine and ensure the highest productivity in the process. The Duo addresses that need more than any other system available to our industry by combining the capability of two machines, two technologies into one," stated Xenetech President Guy Barone. "Certainly this has been the trend in many technology applications that we benefit from today - cell phones/internet/e-mail devices; copiers/scanners/fax systems; and now a laser/diamond drag engraving and cutting system."

The Duo provides engravers with maximum flexibility to respond to customer and production demands. Users have the ability to switch from laser engraving to diamond drag engraving in seconds for dedicated laser or diamond drag work. In addition, the system can produce both forms of engraving in the same job, on the same material, creating a unique engraved finish not matched by competitors.

The Duo solves multiple production challenges for department heads and business owners. "If you need more high productivity laser capacity in your production department, but you also encounter the occasional diamond drag job, the Duo is a natural choice. If you currently don't have a laser engraver and rely on rotary engraving, the Duo adds the advantages of laser engraving while supplementing your current diamond drag capacity," stated Xenetech Sales Manager Jimmy DuBose. "The company that only utilizes laser engraving now will also benefit from the ability to add a diamond drag finish and creating advantages over their competitor's products."

Xenetech combined its 23 years of experience with rotary and laser engraving motion systems to formulate the Duo design. In addition, many of the key component parts are borrowed directly from proven designs used in prior Xenetech laser and rotary systems such as the electronics and bearings. The Duo comes with a two year limited warranty.

"This system utilizes the best of Xenetech's motion system, laser beam delivery, electronics, software, and mechanical engraving technologies," stated Research and Development Vice President John Lundberg. "Combining these technologies was a natural progression for Xenetech and will be a natural progression for the entire engraving industry. We are extremely pleased to begin shipping the Duo."

The Duo can be seen at the Awards and Recognition Association International Trade Show at the Las Vegas Convention Center, Booth 121, February 24 through 26.

Xenetech develops and manufactures a full line of computerized rotary engraving systems, laser engraving systems, and professional engraving software for the recognition, sign, rubber stamp, jewelry, gift, and industrial marking industries. Established in 1986, the company is based in Baton Rouge, Louisiana and maintains a global distribution network. For more information about the new Duo or Xenetech's family of engraving products, browse their website at www.xenetech.com or call them at 225-752-0225.