Desktop Computers suit small and medium businesses.
Press Release Summary: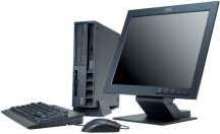 ThinkCentre(TM) A50 systems feature space-saving desktop chassis that supports large screen TFT flat panel and CRT displays. They offer Intel Pentium(TM) 4 processor, Hyper-Threading technology, support for up to 2 GB of 333 MHz DDR memory, Ultra ATA-100 HDD, and integrated Intel Extreme 2 video graphics support. Rapid Restore(TM) Ultra software provides 1-button recovery that lets user restore previously saved system image including data, applications, and operating system.
---
Original Press Release:

ThinkCentre A50 systems for the IBM Think Express Program


At a glance
ThinkCentre A50 systems for small and medium business offer:
o Exceptional performance and room for growth:
- Fast Intel processors
- Hyper-Threading technology (select models)
- Integrated Intel Extreme Graphics 2
- Support for up to 2 GB of 333 MHz double data rate (DDR)
memory
- Support for Ultra ATA-100 devices
o ThinkVantage technology which can:
- Help lower your total cost
- Help increase PC availability and control
o A small form factor chassis with industry-standard technology
- Innovative tool-less mechanical design allows for easy upgradability and service support

Overview
ThinkCentre(TM) A50 systems for small and medium business provide a
space-saving small form factor chassis, a highly serviceable design, and Intel(TM) Extreme Graphics 2 performance.

These ThinkCentre models are part of the U.S. Think Express Program. The models are not available for special bid.

Leadership design
o Space-saving ThinkCentre desktop chassis design with industry-standard technology
o Durable steel chassis design supports large screen TFT Flat Panel and CRT displays (sold separately)
o Common software preload image with the ThinkCentre M50
systems

Choice of technologies to meet user's requirements
o Intel Pentium(TM) 4 processor
o Hyper-Threading technology (select models)
o Support for up to 2 GB of 333 MHz DDR memory
o Integrated Intel Extreme 2 video graphics support
o Ultra ATA-100 HDD

Easy to use and manage
o Optional image management and data migration solutions are
available from IBM.
o IBM offers a suite of industry-standard downloadable
manageability tools to help reduce IT costs throughout the client life cycle.
o Rapid Restore(TM) Ultra software provides a hassle-free one-button
recovery solution that lets you restore your previously saved
system image including data, applications and operating system.
o Access IBM software provides easy access to key IBM ThinkVantage(TM) Technologies and IBM service and support.
o Easier-to-service chassis designs help increase uptime, make
upgrades easier, and make repairs faster with tool-less cover
removal, tool-less slots and internal bays that flip up and
allow components to slide on rails.
o Easy-to-access high-speed USB 2.0 ports.

Optimized for connectivity
o Intel 10/100 Ethernet integrated with Wake on LAN® support IBM service and support
o Service and support available globally
o Full range of optional services available for all customer sizes

For up-to-date marketing and technical information, visit the IBM
Web site at www.pc.ibm.com

Planned availability
February 2004

More from Electronic Components & Devices