Design Verification Test Toolset uses test automation platform.
Press Release Summary: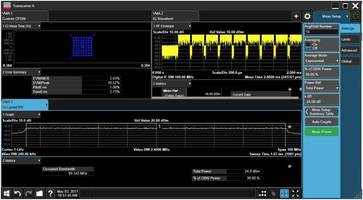 5G RF Design Verification Test Toolset is used to verify 5G devices with RF measurement suite. Unit can create RF and radio resource management test cases. Product is based on UXM 5G wireless test platform and can validate 5G beamforming and beam management with antenna arrays on-chip.
---
Original Press Release:
Keysight Technologies Announces Industry's First 5G RF Design Verification Test Toolset-Accelerates Development of Next-Generation 5G Mobile Devices
New toolset allows developers to rapidly verify 5G RF requirements and perform in-depth analysis
Highlights:
Verify 5G devices with a rich RF measurement suite for conducted and over-the-air (OTA) test
Validate 5G beamforming and beam management in new 5G devices with antenna arrays on-chip
Verify 5G waveforms and numerology with flexible test case development, fast execution of test campaigns, and in-depth results analysis
Keysight Technologies, Inc. (NYSE: KEYS) today announced the 5G RF DVT Toolset, an industry-first network emulation solution for 5G radio design verification test. The new toolset cost-effectively scales from sub-6 GHz to mmWave, and from pre-5G standards to new radio (NR).
The 5G RF DVT Toolset is the latest solution in Keysight's 5G network emulation solution (NES) portfolio. The 5G RF DVT Toolset is based on Keysight's UXM 5G wireless test platform, as is the first-to-market, 5G Protocol R&D Toolset (announced in May 2017). The toolset is engineered to ensure measurement traceability-from early prototyping to acceptance and manufacturing.
"5G RF test on-a-call is vital to verify device performance and is particularly challenging due to mmWave frequencies and beamforming," said Kailash Narayanan, vice president and general manager, Wireless Device and Operators. "Keysight is delivering first-to-market solutions and enabling the industry to accelerate their 5G device projects."
The 5G RF DVT Toolset uses Keysight's test automation platform (TAP), allowing the design engineer to easily create and customize RF and radio resource management (RRM) test cases with the highest degree of parametrization.
Additional Information More information about the 5G protocol R&D toolset are available at www.keysight.com/find/5G-Protocol.
About Keysight in 5G
The development of 5G depends on up-to-date tools that let designers easily explore new signals, scenarios and topologies. Keysight's 5G solutions are ready to enable deeper insights as development evolves with the standard. In design and test, Keysight is helping industry leaders innovate across new and existing technologies as they transform ideas into reality. Additional information about Keysight's 5G design, test and measurement solutions is available at www.keysight.com/find/5G.
About Keysight Technologies
Keysight Technologies is a leading technology company that helps its engineering, enterprise and service provider customers optimize networks and bring electronic products to market faster and at a lower cost. Keysight's solutions go where the electronic signal goes, from design simulation, to prototype validation, to manufacturing test, to optimization in networks and cloud environments. Customers span the worldwide communications ecosystem, aerospace and defense, automotive, energy, semiconductor and general electronics end markets. Keysight generated revenues of $2.9B in fiscal year 2016. In April 2017, Keysight acquired Ixia, a leader in network test, visibility, and security. More information is available at www.keysight.com.
Contact:
Geri Lynne LaCombe
Americas
+1 303 662 4748
Sarah Calnan
Europe
+44 (118) 927 5101
Connie Wong
Asia
+852 3197-7818
More from Architectural & Civil Engineering Products