Design Service produces tools for specific applications.
Press Release Summary: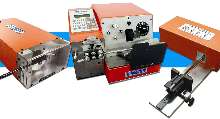 Custom Design Service addresses material processing requirements specifically tailored to individual needs of various applications. Service includes custom wire, cable, and tubing cutters; wire and cable strippers; and wire twisters. It also provides custom wire brush wheels, dereelers, infrared heating equipment, measuring tools, and fybRglass erasers.
---
Original Press Release:
Custom Design Service Meets Customer Need

The Eraser Company's Custom Design Service addresses a wide range of material processing requirements that are specifically tailored to the individual needs of the customer. Based on the overwhelming positive response of its customers, the company continues to greatly enhance its capabilities in this area.

To meet customer demand, Eraser continues to refine their Custom Design Service to include wire, cable and tubing cutters, wire and cable strippers, wire twisters, wire brush wheels, dereelers, infrared heating equipment, measuring tools, and fybRglass. erasers. The company's president, Mr. Ralph BeVard, declares "Your specials are really standard for us, and we welcome the opportunity to develop a custom solution to satisfy your unique needs!" Eraser has a solution for every production application.

Since 1911, The Eraser Company of Syracuse, NY has manufactured a wide range of industrial products. The company is ISO 9001:2000 certified and offers Free E.S.P. (Eraser Sample Program). Send a 5-10 foot sample of your material and Eraser will recommend the best solution for your processing needs from its line of more than 200 products. For more information on Eraser's entire product line visit www.eraser.com or call 315-454-3237.

CONTACT:

Laura Prattico

(315) 454-3237, ext. 268

lprattico@eraser.com
More from Materials