Design Manufacture Services support open, PC-based HMIs.
Press Release Summary: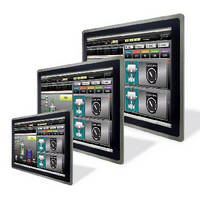 Providing engineering management, product life cycle management, and quality control, Design for Manufacturability Services will help ODMs, OEMs, and end-users accelerate product development and production of new machinery using open, PC-based HMIs. Solutions incorporate 3.30 GHz Intel® Core™ i7-4650U processor rated at 15 W Max TDP with 4M Cache. Services will provide intelligent and timely discovery, aggregation, and prioritization of product success factors.
---
Original Press Release:

AIS's Design for Manufacturability Services for Open and PC-Based HMI Systems with 4th Generation Intel® Core(TM) i7 Processor Deliver Advanced Visualization Solutions for the Future



OEM/ODM Customers Using Intel® Microarchitecture Can Now Leverage AIS DMS Services for Innovation and to Optimize All Aspects of New Product Development



IRVINE, CALIFORNIA – American Industrial Systems, Inc. (AIS), the leading designer and manufacturer of open and PC-based HMIs and multi-touch touchscreen interfaces announces its design for manufacturability services for incorporating the new Intel® Core™ i7-4650U processor (15 W Max TDP, 4M Cache, up to 3.30 GHz) from Intel. In addition to a host of in-house services including, engineering management, product life cycle management and quality control. AIS's design manufacture service (DMS) will help ODMs, OEMs and end-users accelerate product development and production of new machinery using the latest open, PC-based HMIs solutions with the new Intel® 4th generation Haswell processor as the engine. The innovative new 4th generation Intel® Core™ i7 U-processor promises substantial improvements in performance, graphics, security, and other features.



New Open PC-Based HMI Solutions with 4th Generation Intel® Core™ i7 Embedded Processor Designed & Manufactured by AIS Brings Visualization Control & Monitoring Technologies to the Leading Edge

Technology is always at the core of advancing performance, productivity and innovation in today's industrial manufacturing facilities and plants. The combination of AIS's design for manufacturability services expertise and open touchscreen interface technologies with Intel's 4th generation Haswell processors will provide more powerful, smarter visualization solutions. It is expected the convergence of technologies dedicated to bringing IT enterprise mobility and manufacturing execution systems (MES) together, will fuel innovation for several years. Internet of Things (IoT) and Machine to Machine communications (M2M) via wireless networks will drive product development opportunities for new open based visualization solutions utilizing this new family of processors.



AIS's design for manufacturability services will provide intelligent and timely discovery, aggregation and prioritization of product success factors. AIS will also provide full visibility into project status for all active projects across the development portfolio and appropriate balance of resource investments with projected financial returns. Furthermore, bottom line results for deploying new, open-based HMI visualization system designs from AIS incorporating Intel's (Haswell) processor will provide users tangible benefits that dramatically improve productivity, control and monitoring. OEMs and ODMs machinery equipped with AIS open HMI touchscreen solutions will offer greater graphics, video, communications and security across a multitude of industrial and commercial applications including factories, plants and commercial buildings.



AIS Open PC-Based HMI Processor Integration, Design and Manufacturing Takes Huge Leaps Forward Thanks To the Latest Intel® Microarchitecture Haswell Processor

As the first new microarchitecture on the 22nm manufacturing process, it marked the arrival of a new 4th gen Intel® Core™ platform, which comprises 4th generation Intel Core processors and the Intel® 8 Series chipset family (codename Lynx Point). This new platform delivers significant performance advancements-including vastly improved graphics, battery life and security. Promising giant leaps in power efficiency and overall performance, the Intel chipsets utilizes a newly designed architecture and are manufactured using the 22nm process. Haswell is the codename for a processor microarchitecture developed by Intel as the successor to the Ivy Bridge architecture.



AIS Design for Manufacturing Services for Open HMI Systems Speeds up Time-To-Market, Reduces Manufacturing Costs, While Increasing Product Availability

The design stage is a critical phase in touchscreen panel design at AIS. Most of the HMI product lifecycle costs are committed at the design stage. At AIS, HMI product designs are not just based on great design methodology. They are also based on a comprehensive, cost-effective and efficient approach to manufacturing. Sometimes an otherwise good design concept is not practical to produce. With an extensive set of tools for HMI & displays design simulation and testing, AIS goes to great length to ensure a product is designed, engineered and manufactured with great efficiency and offers customers future product availability. We offer a wide range of electrical, software, mechanical, health, safety, and environmental design capabilities. AIS designs meet many popular specifications and standards including: automotive, military, marine, ISO, IEC, UL, CE, MIL, DNV, ATEX, SAE and/or customer specific applications.



AIS Open PC-Based HMI System with 4th Generation Intel® Core™ i7 Embedded U-Processor (Haswell) Features and Benefits

• Extended Life Cycle Product Support: Protects touch screen HMI system investment by enabling extended product availability for OEM/ODM customers

• Intel® HD Graphics 5000: Integrated processors graphics help minimize power consumption while maximizing performance for decoding, encoding, and transcoding workloads with HMI system hardware acceleration of video codecs

• Intel® Quick Sync Video 2.0: Improved ability to decode and transcode simultaneous video streams for intelligent HMI systems, including HMI imaging and video processing control functions

• Intel® Clear Video HD Technology: Provides visual quality and color fidelity enhancements for spectacular HD media playback for applications such as advanced motion control, industrial automation and process control platforms

• Intel® AES New Instructions (Intel® AES-NI) and Intel® Secure Key: Helps protect HMI data and assets from loss. Intel AES-NI accelerates data encryption/decryption and improves HMI system performance

• Boot Integrity: Helps prevent repurposing of the platform to run unauthorized HMI software and boot block-level malware

• Intel® Turbo Boost Technology 2.0: Boosts HMI system performance for specific workloads by increasing processor frequency

• Intel® Smart Cache Technology: Large on-die shared last-level cache reduces latency to data, improving HMI system performance and power efficiency

• Intel® Intelligent Power Technology: Automated energy efficiency to reduce HMI system power consumption

• Automated Low-Power States: Adjusts HMI system power consumption based on real-time processor loads

• Intel® Rapid Start Technology: Improves OS boot time and wakes up from deep sleep state more quickly than previous generations for better HMI system responsiveness

• Intel® Active Management Technology 9.5: Intel's remote management and maintenance capabilities enable HMI system to roll back firmware image; remote host capabilities help ease provisioning of end devices

• Intel® Virtualization Technology: Speeds transfer of platform control and movement of data between the virtual machine monitor (VMM) and other platform agents. By lowering the workload on the VMM, this technology helps HMI embedded system design such as migrating legacy software, increasing real-time performance and making applications more secure

• Intel® Trusted Execution Technology: Protects HMI embedded system devices and virtual environments against rootkit and other system-level attacks. Using an industry-standard TPM 1.2 to store keys and other protected data, this portion of Intel® vPro™ technology boots the BIOS, operating system, and software into a "trusted" execution state, verifying the integrity of the virtual machine and protecting the platform from unauthorized access



About AIS

Headquartered in Irvine, California, USA, American Industrial Systems, Inc. (AIS) offers in-house electronic and mechanical design, software development, manufacturing, production and quality control services. Offering one of the widest ranges of industrial computing solutions, AIS solutions are available in a multitude of configurations for industrial, oil & gas, military and marine applications. The company is fully committed to empowering, improving and delivering turnkey HMI, monitoring and display solutions for OEM, ODM and end-user customers. AIS is an ISO 9001:2008 certified supplier and manufacturer of rugged computers and displays, and received completion of the International Traffic in Arms Regulations (ITAR) registration from the Directorate of Defense Trade Controls (DDTC). For more information, visit: www.aispro.com, email: sales@aispro.com or contact: 1-888-485-6688.



Media Relations Contact:

American Industrial Systems, Inc.

David G. Martorana

Public Relations

Call: 1-847-630-6487 

Email: dgmcreative@sbcglobal.net



More from Sensors, Monitors & Transducers