Design for Assembly Software supports lean manufacturing.
Press Release Summary: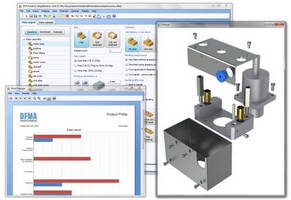 Aiding engineers in creating structurally efficient components, DFA Product Simplification software v10 features DFA worksheet integrated with structure chart, for seamless toggling back and forth during analysis. Times for common operations and part/tool acquisitions are automatically estimated. Also, software's operations library includes test-view panel for developing customized assembly operations. Undo and redo features are also included, as are tabular reports which can be exported.
---
Original Press Release:

Boothroyd Dewhurst Launches DFA 10 Product Simplification Software



New version delivers faster, easier-to-use analyses for streamlining parts and product assemblies for Lean and Value Engineering-based manufacturers



Wakefield, R.I. – At the 2013 International Forum on Design for Manufacture and Assembly (DFMA®), Boothroyd Dewhurst, Inc., developer of the internationally recognized methodology, announced the release of its DFA Product Simplification software, Version 10. The Design for Assembly software has an improved user interface for speed and ease of use, and helps manufacturers develop more streamlined and profitable products.



DFA Product Simplification allows engineers to scrutinize parts and assemblies for structural efficiency, guiding them toward the creation of single, multifunctional components with significantly improved performance-to-cost ratios. The resulting elegant, highly economical products enable companies to better reach their Lean and Value Engineering goals by increasing manufacturing throughput and reducing the organizational footprint products make in their journey from design workstation to factory floor—and on to the customer.



"Fewer parts make for an improved business process," said Dave Vranson, Advanced Manufacturing Engineer at ITT Aerospace Controls. "Industry understands the impact of DFA on piece-part cost and quality. It's well proven. What we as manufacturers are exploring and better appreciating are the benefits that DFA provides once the product is out of design.



"For example, on a recent redesign of a small butterfly valve assembly, our ITT Aerospace engineering team trimmed part count from 15 to 5, operational assembly time from 16 to 1.5 minutes, material cost by seven percent—and overhead by one-half," said Vranson. "The reduction of overhead on this item will redistribute itself over the entire product line and manufacturing enterprise, allowing us to better invest in future products."



"The proposed DFA valve redesign also virtually eliminates production rework and has easy field serviceability," he added. "These are important objectives to our Lean and Value Engineering teams."



Faster Software/Large-Part Analysis Distinguish DFA 10



"The goal we had while developing DFA 10 was to help users concentrate on the fundamental analysis and redesign of their products and less on navigating the methodology and software interface," said Brian Rapoza, R&D manager at Boothroyd Dewhurst, Inc.



"Every aspect of analyzing and redesigning a product has been refined in order to simplify the effort," he noted. "The software screens and code have been rewritten from the ground up, empowering users with more of the information needed to quickly make important design decisions.  DFA 10 is a highly focused and deliberate tool for product improvement."



"Another of the principal objectives in the development of DFA 10," said Boothroyd Dewhurst co-founder Dr. Geoff Boothroyd, "was to properly incorporate years of research carried out at University of Rhode Island (URI)) on the handling and assembly of large or heavy parts—meaning those parts that could not generally be reached and manipulated by the assembly worker using one hand.



"This important work is now incorporated into DFA 10 in such a way that questions about part orientation and symmetry that do not affect the results have been eliminated and replaced with automatically incorporated research data," Boothroyd said.



Users of DFA 10 Will Find These Enhancements, Among Others:



Efficiency is gained because only the most important DFA questions are asked for each handling and assembly operation.



A more guided redesign process has been incorporated into the software with suggestions that have been built into the product structure under review.



The DFA worksheet has been integrated with the structure chart to enable seamless toggling back and forth during an analysis.



Times for commonly done assembly operations, such as unpackaging of large parts and aligning of holes with an awl prior to insertion of a screw or pop-rivet, are automatically estimated by the software.



Acquisition times for parts and tools are automatically estimated by the software with no additional input required.



There is a new ability to compile more useful results that are now based on function groupings of parts and operations in a product.



A new test-view panel has been incorporated into the operations library, which makes it easier and faster to develop customized assembly operations.



Customized tabular reports can be generated and exported.



Full "undo" and "redo" features have been added.



About Boothroyd Dewhurst, Inc.

Boothroyd Dewhurst, Inc. was the first company to commercialize Design for Manufacture and Assembly (DFMA®) methodologies and software tools, which make it possible to evaluate, estimate, and reduce the manufacturing cost of a product in the design phase through product simplification and cost estimation. Hundreds of Fortune 1000 companies, including General Electric, John Deere, Motorola, Pratt & Whitney, and Whirlpool, use DFMA to cut the costs of their manufactured products and achieve design innovation in their markets. The company was founded in 1983 and received the National Medal of Technology Award in 1991. For more information about DFMA software, workshops, consulting services, and international conferences, contact Boothroyd Dewhurst, Inc., 138 Main Street, Wakefield, RI 02879, USA. Tel. (401) 783-5840. Fax (401) 783-6872. Web site: www.dfma.com. E-mail: info@dfma.com.



DFMA is a registered trademark of Boothroyd Dewhurst, Inc.



More from Fluid & Gas Flow Equipment