Department of Public Works * Goes Up for More Space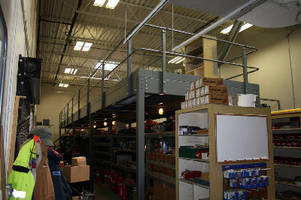 Local Department of Public Works (DPW) Tool Room benefits from the additional space a Wildeck® Modular Mezzanine provides.

Waukesha, WI - A local Department of Public Works (DPW) decided to construct a new field office with the purpose of combining field operations and several other departments into one large facility.

Before even reaching the construction phase, extensive studies were conducted to ensure that there would be adequate space to accommodate all the needs of the different departments. Even in the best of circumstances, things don't always go according to plan.

A few assumptions were made to consolidate some areas and there was not sufficient floor space for the combined department tool room.

The DPW Plant & Equipment Repair Supervisor contacted C&H Distributors in Milwaukee to provide a solution to their space constraints. C&H invited Wildeck sales representatives, as well as a designer and a structural engineer to assist in recommending and providing their customer with the best cost-effective solution to increase the storage capacity in the parts room. Both Wildeck and C&H Distributors were able to provide an optimum solution at a competitive price for the local DPW.

Wildeck, Inc., - recognized as the largest manufacturer of mezzanines, VRC's (Vertical Reciprocating Conveyors) and Safety Guarding Products in North America - was able to provide the newly constructed DPW facility with a modular mezzanine to utilize the wasted vertical space and regain the space necessary to repair and store their equipment and tools.

"All the right questions were asked," explains the Plant & Equipment Repair Supervisor. "C&H Distributors and Wildeck were able to come up with a blueprint of exactly what we were looking for to regain our storage space."

Wildeck's modular mezzanine design concept was a viable alternative to a custom-built solution. The standard mezzanine design enabled the local DPW to save money on this unknown additional project expense.

"C&H Distributors and Wildeck are wonderful companies to work with," says the Plant & Equipment Repair Supervisor. "The entire process from concept to installation went flawlessly. They were there when they said they would be. The mezzanine was delivered on the day that was projected. The installers came and were able to work around our tool room operations with minimal interruptions."

"They even completed the installation ahead of schedule," the Supervisor concludes.

The Wildeck® mezzanine has provided the DPW with everything they were looking for.

"We have the added work space that we so desperately needed," continues the Supervisor. "We were able to gain a little more storage space on the first level and utilize the previously wasted vertical space for secondary storage. We are very happy with the end result."

Our thanks to the local DPW for their participation in this article. They were pleased to assist us in producing the case study, and with respect to their local governing guidelines, Wildeck is not authorized to reveal the actual location or mention the specific municipality by name.


More from Cleaning Products & Equipment