Dental Scaler Inserts resist cross contamination.
Press Release Summary: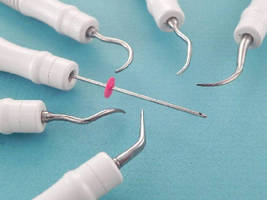 Designed with few seams and no sharp inside corners or other hard-to-clean features, Ultrasonic Dental Scaler Inserts are specifically engineered to resist carryover and cross-contamination during dental deep cleanings. Inserts also feature homogenous glazed finish that resists scaffolding by bacteria and viruses.
---
Original Press Release:

Ultrasonic Dental Scaler Insert Manufacturer Selling Direct



Z. Haydu Manufacturing Corporation has extended its reach



Hollywood, Florida - Zoltan Haydu, Sr. had been manufacturing his own line of high-quality dental instruments since 1961. Until now, the Haydu ultrasonic dental scaler inserts have been sold primarily through a network of distributors. As of April 15th, 2015 Z. Haydu Mfg. Corp. (ZHMC) has expanded their offerings through direct sales, translating into greater savings for dentists and periodontists.



Z. Haydu Manufacturing Corporation's ultrasonic dental scaler inserts were specifically engineered to resist carryover and cross-contamination during dental deep cleanings. Many of the most popular inserts on the market are designed with seams, steps, or grooves that offer breeding ground for bacteria and viruses. ZHMC's scaler inserts aim to reduce these hideaways by using fewer seams, no sharp inside corners, or other hard-to-clean features. The inserts also feature a homogeneous glazed finish that resists scaffolding by bacteria and viruses. When used as directed, these benefits allow ZHMC to warranty their products for a full 6 months, rather than the standard 90 days. In keeping with the Haydu business philosophy, nearly all the components and materials in the ZHMC ultrasonic dental scaler inserts are developed and made in America.



With the company's expansion into direct sales, dentists now have an economical, high-quality, ultra-hygienic solution to the problems of cross-contamination and carryover. Inserts bought from large distributors often come with a higher price as well as greater purchase quantity requirements. Z. Haydu Manufacturing Corporation's presence as a dental manufacturer selling direct serves to add efficiency and economy to the business of running a dental practice. ZHMC will continue to transact business with their current network of dental distributors in the same consistent manner that the family enterprise is known for. Z. Haydu Mfg. Corp. 1980 Grant St. Hollywood, FL 33020 Ph. 954-925-1779 Fax 954-923-1366 Email [email protected]



About Z. Haydu Manufacturing Corporation – ZHMC's ultrasonic dental scaler insert manufacturing department represents a legacy business that was developed by Mr. Zoltan Haydu and his patent in 1970 and earlier development work going back to 1961. He left this realm on December 21st, 2011. His sons, James and John Haydu have continued to refine and expand the dental scaler product line by offering both 25 KHz and 30 KHz frequency tips. As part of their commitment to providing solutions for their customers' manufacturing challenges, ZHMC also performs the following services: Tube Bending and Forming, Four Slide Wire and Ribbon Forming, High Precision Stamping and Machine Services, as well as Custom Stainless Steel & Specialty Manufacturing. In addition to the dental profession, ZHMC serves the medical, veterinary, aerospace, and other technology industries.



Contact Shannon Sease or John P. Haydu for further information.

1980 Grant St.

Hollywood, FL 33020

Ph. 954-925-1779 Fax 954-923-1366

Email [email protected]

Web www.zhaydumfg.com