DENSO Introduces Driver Safety Monitor that Helps in Reducing Accidents
Press Release Summary: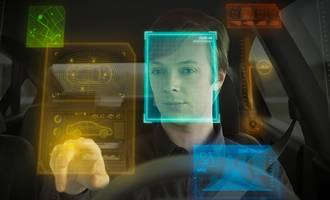 New Driver Safety Monitor is designed for checking distractions, drowsiness, sleep, and inappropriate posture of the driver based on the driver's facial image. Unit alerts though a voice when it detects ant distraction or drowsiness in the drivers face. The product can be operated in -30-70°C temperature range with 8-32 V input voltage. Unit detects driver's condition and records on SD card that helps operation manager and driver to review driving status, image of the driver and number of voiced alerts.
---
Original Press Release:
DENSO Releases New Safety Monitor to Reduce Accidents Involving Commercial Vehicles
The retrofittable driver status monitor detects distractions and drowsiness to improve the safety of drivers in new and existing commercial vehicles
KARIYA (Japan) ― DENSO Corporation, one of the world's largest automotive suppliers, today announced it has released a retrofittable driver status monitor to help reduce the number of traffic accidents involving commercial vehicles, such as trucks and buses. The safety product checks for distractions, drowsiness, sleep, and inappropriate posture based on the driver's facial image, which is captured through a camera installed in the cabin. If drowsy or distracted driving is detected, the monitor voices an alert. It is now sold by DENSO Sales and DENSO service stations across Japan and will be released outside the country later this year.
Large commercial vehicles can cause serious damage in an accident, and many trucks and buses do not have the latest safety devices installed because they've been in use for so many years. The driver status monitor is retrofittable to existing vehicles on the road, and can therefore accelerate the introduction of safety devices to large commercial vehicles.
A driver's condition is detected by the product and recorded on a SD card. An operation manager and the driver can review the driving status, including the number of voiced alerts, and an image of the driver when the alert was triggered. This feature offers additional guidance for safe driving. The driver's condition can also be notified to the operation manager in real-time, making it possible to caution the driver and take quick action in the event of an emergency. In addition, the monitor can be linked with a new telematics device for commercial vehicles released by DENSO this summer and a cloud-based digital tachograph manufactured by Fujitsu Limited.
DENSO has been developing safety technologies and products for passenger cars and commercial vehicles to help create a society free from traffic accidents. In 2014, DENSO developed its first driver status monitor and currently offers products for heavy trucks and large sightseeing buses. In 2017, DENSO collaborated with FotoNation, a wholly owned subsidiary of Xperi Corporation that creates facial image recognition and neural network technologies, to further improve the performance of driver status detection and accelerate the development of products that will impact the future of mobility.
These technologies and partnerships support DENSO's commitment to deliver a safe and secure automotive society for all people around the world.
Product specifications
Main unit                                         Operating temperature range                              −30–70°C
                                                       Power supply voltage                                             8–32 V
                                                       Current consumption                                         1.0 A max. (24 V)
                                                      Dark current                                                         3m A max.
                                     External dimensions [(width) × (depth) × (height)]             148 mm × 112 mm × 35 mm
Camera                                   Operating temperature range                                    −40–90°C
                                     External dimensions [(width) × (depth) × (height)]             106 mm × 26 mm × 27 mm
           Manufacturer's suggested retail price                                                                Open 
About DENSO Corporation
DENSO Corp., headquartered in Kariya, Aichi prefecture, Japan has more than 220 subsidiaries in 35 countries and regions (including Japan) and employs approximately 170,000 people worldwide. Consolidated global sales for the fiscal year ending March 31, 2018, totaled US$48.1 billion. Last fiscal year, DENSO spent 8.8 percent of its global consolidated sales on research and development. DENSO common stock is traded on the Tokyo and Nagoya stock exchanges. For more information, go to www.denso.com, or visit our media website at www.denso.com/global/en/news/media-center/
About Xperi Corporation
Xperi Corporation (Nasdaq: XPER) and its brands, DTS, FotoNation, HD Radio, Invensas and Tessera, are dedicated to creating innovative technology solutions that enable extraordinary experiences for people around the world. Xperi's solutions are licensed by hundreds of leading global partners and have shipped in billions of products in areas including premium audio, automotive, broadcast, computational imaging, computer vision, mobile computing and communications, memory, data storage, and 3D semiconductor interconnect and packaging. For more information, please call 408-321-6000 or visit www.xperi.com.
Contact:
Yu Matsuda,
Junko Uehara
DENSO CORPORATION
Phone: 81-566-25-5594
Fax: 81-566-25-4509
yuu_matsuda@denso.co.jp
junko_uehara@denso.co.jp
More from Software