Density Transmitter checks liquid concentration.
Press Release Summary: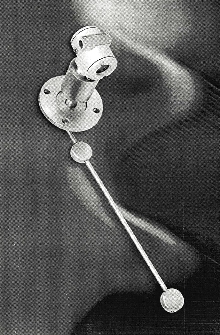 DT301 Touche transmitter performs continuous, on-line measurements. Capacitive, differential-pressure transmitter is coupled to pair of pressure repeaters immersed at different levels in process. Integral temperature sensor compensates for temperature variations. Software calculates fluid density. DT301 provides accuracy of +/-0.0004 g/cm3, with range of 0-0.5 to 0-5 g/cc. Models are available for industrial process and sanitary applications.
---
Original Press Release:
SMAR Introduces DT301 Smart Concentration/Density Transmitter

Innovative instrument improves density measurement in industrial processes

HOUSTON, Texas, March 11, 2002 - Smar International Corp. today announced the introduction of the DT301 "Touche" Density Transmitter, an innovative instrument developed for continuous, online measurement of liquid concentration and density in industrial process applications.

Employing a pioneering, two-level measurement technology, the DT301 consists of a capacitive-type differential pressure transmitter coupled to a pair of pressure repeaters immersed at different levels in the process. When inserted into a fluid, the density is calculated from the difference in pressure at the two levels. An integral temperature sensor located between the two pressure repeaters compensates for the temperature variations in the process fluid, and dedicated software, by means of an algorithm, calculates the fluid density.

According to Brian Wood, Smar product manager, the DT301 redefines the optimum method for measuring density in industrial environments. "Those using existing density measuring techniques, such as Coriolis meters, refractometers, tuning forks and nuclear devices, will find the DT301 provides a simpler, more effective solution for improved measurement accuracy," said Wood. "This two-wire, loop-powered transmitter has the unique ability to refer density to a standard temperature, and then perform conversion to concentration. It is also easily configured to express densities in concentration readings relevant to various process industries."

Wood added, "With the introduction of the DT301, end users can achieve precise, reliable density measurements that are essential to the performance and quality of their process operations."

The DT301 " Touche" Intelligent Transmitter is available in two models: the DT301I (Industrial) Model for general purpose use, and the DT301S (Sanitary) Model for sanitary environments. Installation may be done either in open or pressurized tanks, or directly in pipes. Applications range from the food, beverage, dairy, sugar and alcohol industries, to chemical processing, mining, pulp & paper manufacturing, and petrochemical refining.

The DT301 provides accuracy of +/-0.0004 g/cm3 (+/-0.1% Brix), with a range of 0-0.5 to 0-5 g/cc. Temperature limits are -40 to 85 degrees C (-40 to 185 degrees F) ambient, and 0 to 120 degrees C (32 to 248 degrees F) process. The transmitter generates a 4-20 mA signal proportional to fluid concentration/density. Digital communication (via the HART Protocol) for remote calibration, monitoring and diagnostics is also provided. Direct density or concentration readouts can be expressed in a choice of engineering units, including g/cm3, kg/m3, Specific Gravity, Brix, Baume, Plato, % Solids, etc.

Designed as a single, integrated unit without moving parts, the DT301 is available in different wetted materials to be compatible even with corrosive industrial processes. Additionally, the transmitter does not require periodic cleaning, thus providing ease of maintenance. The sanitary model meets 3A recommendations via a probe surface free of crevices where food or bacteria can collect. Both models are available in top mounting (straight type) and side mounting (curved type) configurations, with a choice of standard industrial or sanitary process connections.

Factory-calibrated for consistent accuracy, the DT301 Intelligent Transmitter can also be re-calibrated in the field without a standard reference, or the need for a process shutdown.

About Smar International

Founded in 1974, Smar International Corp. is recognized as a global leader in controls and instrumentation for process and manufacturing automation. The company maintains operations in eight countries, as well as an extensive, international network of distributors and representatives. Recognized as "First In Fieldbus," Smar has pioneered many of today's advanced digital field instrument and control network technologies. This is consolidated in a broad product offering based on the industry-standard HART, FOUNDATION(TM) fieldbus and Profibus protocols. Smar's powerful, fieldbus-based SYSTEM 302 has gained prominence as a "best-in-class" industrial automation solution in installations around the world. In addition, Smar's complete system integration capabilities include one of the industry's widest selections of field devices, interfaces, integrated circuits and software.

For more information, contact: Smar International Corp., 6001 Stonington, #100, Houston, TX 77040-5072. Tel: (713) 849-2021, Fax (713) 849-2022, E-mail: sales@smar.com, Web: www.smar.com.

More from Electrical Equipment & Systems