DeltaTRAK® Announces RoHS Compliance for In-Transit Temperature Recorders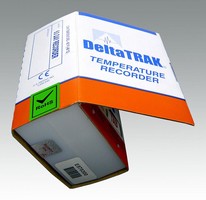 Pleasanton, CA - September 20, 2006 - DeltaTRAK, Inc., a leading manufacturer and marketer of end-to-end cold chain management systems and portable environmental test instruments, today announces RoHS compliance for its In-Transit Temperature Recorder product line (please see attached images of DeltaTRAK Temperature Recorder in white plastic case with RoHS-compliance label on the product sleeve).

On 27 January 2003, the European Parliament and the Council of the European Union (EU) adopted directive on the "Restriction of the User of Certain Hazardous Substances in Electrical and Electronic Equipment" or RoHS. All EU member states must bring into force their respective laws, regulations and administrative provisions to comply with this directive on July 1, 2006.

"Achieving RoHS compliance for the popular In-Transit Temperature Recorders is a major milestone in DeltaTRAK's quest to restrict the presence of any of the six (6) RoHS-identified hazardous materials in future products," said Fred Wu, president of DeltaTRAK. "We will use the In-Transit Temperature Recorder RoHS-compliance process as the model for reviewing the supply chain for the rest of our products. We aim to provide customers worldwide with products that are environmental and user friendly"

RoHS identifies the following materials to be toxic and to be restricted from electronic and electrical equipment:
(1) Mercury, (2) Lead, (3) Cadmium, (4) Hexavalent Chromium,
(5) Polybrominated Biphenyl (PBB) and (6) Polybrominated Diphenly Ether (PBDE)

Since 1989, DeltaTRAK has been manufacturing the highest quality portable test instruments and software that monitor and record temperature, humidity, and pH parameters. DeltaTRAK's food and pharmaceutical safety products and cold chain management services are being used worldwide in over 40 countries. Headquartered in Pleasanton, California, DeltaTRAK also has R & D offices in San Diego, California, a manufacturing and distribution facility in Modesto, California, an electronic assembly operation in Shenzhen, China. DeltaTRAK can be reached by calling 1-800-962-6776, or by email to salesinfo@deltatrak.com. Detailed product information is available at www.deltatrak.com.

Related