Delta Robot Platform promotes production diversity.
Press Release Summary: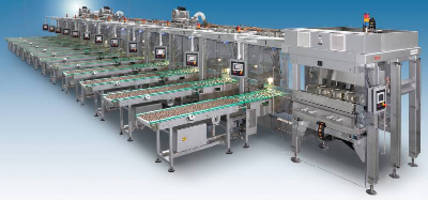 Suited for pharmaceutical, food, and confectionery industries, LDx is comprised of compact cells with integrated Delta robots adaptable to suit various applications. Standard steel and stainless steel versions have exposed structure with no enclosed spaces and smooth, angled surfaces. Like all other major drive components, bearings in arms are made of ceramic and are nonwearing. Cells can be configured as MonoPacker, AssortmentPacker, or FeedPlacer to accommodate various requirements.
---
Original Press Release:

New Delta Robot Platform LDx from Bosch with Modular Principle Offers Production Diversity



Handles a wide range of formats, products and packaging types
Maximum machine uptime with reduced cleaning and changeover times
Simple operation using touchscreens and tool-free gripper changing

The new Delta robot platform LDx from Sigpack Systems, a Bosch packaging Technology company, is suitable for use in the pharmaceutical, food and confectionery industries. The platform is made up of compact cells with integrated Delta robots which can be adapted easily and flexibly to suit a variety of applications. With this new system Sigpack Systems demonstrates its competence in developing automated technologies for handling and packaging processes.

The platform is being manufactured in two versions - standard steel and the stainless steel. The stainless steel versions meet the latest EU hygiene standards and consist of food compatible materials. The bearings in the arms are made of ceramic and are nonwearing, like all other major drive components of the Delta robots. The exposed structure of the robot cells means that there are no enclosed spaces. Due to the smooth, angled surfaces the detergents can drain off residue free making the cells easy to clean. This ensures maximum product quality and avoids long downtimes for costly cleaning procedures, especially important when processing food.

The LDx standard components (basic cells) can be combined to meet each customer's specific requirements. Depending on customer specifications, the cell can be configured as a MonoPacker (LDM) for packing one product type in each container, an AssortmentPacker (LDA) for producing mixed packs, or as a FeedPlacer (LDF) for loading pillow-pack machines or side loaders. This gives users the ability to adapt the equipment to suit their own output and product range. The output and speed of the system depend on the number of robots used; sophisticated design technology always ensures versatility and flexibility in both product and pack type.

"In theory, the robot cells can be positioned in any way, like building bricks. Users have a system which they can adapt easily and quickly to cope with their future production needs," says Roland Czuday, Product Manager at Sigpack Systems.

The robots are able to handle an almost unlimited number of products - blister packs, tubes, sprays, cookies, fragile baked goods, chocolates, pizza and even fish and meat dishes. A variety of gripper types ensures that products are handled with care. Regardless of whether the process uses vacuum suction, airstream grippers or finger grippers, fast-action couplings mean that the robot arm can be quickly modified to suit different production requirements.

About Bosch Packaging Technology

Bosch Packaging Technology is based in Waiblingen and is the leading provider of holistic solutions in packaging and process technology. The Packaging Technology division operates in 15 countries developing, manufacturing and selling modules and systems for pharmaceuticals, confectionery and cosmetics, as well as the food and non-food industries. For more information, please visit www.boschpackaging.com.

Reader contact:
Roland Czuday
Product Manager
Tel: +41 52 674 6654
roland.czuday@bosch.com

The Bosch Group is a leading global supplier of technology and services.According to preliminary figures, some 282,000 associates generated sales of roughly 45 billion euros in the areas of automotive and industrial technology, consumer goods, and building technology in fiscal 2008.The Bosch Group comprises Robert Bosch GmbH and its more than 300 subsidiaries and regional companies in over 60 countries. If its sales and service partners are included, then Bosch is represented in roughly 150 countries.This worldwide development, manufacturing, and sales network is the foundation for further growth.Each year, Bosch spends more than 3 billion euros for research and development, and applies for over 3,000 patents worldwide.With all its products and services, Bosch enhances the quality of life by providing solutions which are both innovative and beneficial.

The company was set up in Stuttgart in 1886 by Robert Bosch (1861-1942) as "Workshop for Precision Mechanics and Electrical Engineering."The special ownership structure of Robert Bosch GmbH guarantees the entrepreneurial freedom of the Bosch Group,making it possible for the company to plan over the long term and to undertake significant up-front investments in the safeguarding of its future.Ninety-two percent of the share capital of Robert Bosch GmbH is held by Robert Bosch Stiftung GmbH, a charitable foundation.The majority of voting rights are held by Robert Bosch Industrietreuhand KG, an industrial trust. The entrepreneurial ownership functions are carried out by the trust.The remaining shares are held by the Bosch family and by Robert Bosch GmbH.

Additional information can be accessed at www.bosch.com.

Related