DEK Solar Prepares to Showcase Pioneering PV3000 at AsiaSolar Energy Photovoltaic Exhibition and Forum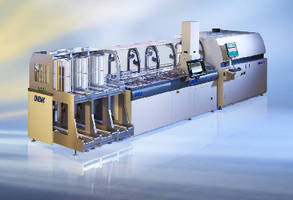 DEK Solar will be bringing its newly-introduced PV3000 metallization line to this year's AsiaSolar Energy Photovoltaic Exhibition and Forum, being held at Shanghai Mart from 30th March - 1st April. In addition to providing an opportunity for visitors to see the line in action, the exhibition will also enable attendees to find out more about the company's innovative approach to service and support.

Being demonstrated at the show, DEK's PV3000 photovoltaic metallization solution optimises solar cell manufacturing productivity by deploying multiple print heads in parallel. The display will show visitors how, if one head halts for operator attention, the others will continue to print - virtually eliminating downtime. Delivering six-sigma repeatability for capability in advance of current solar cell requirements, the platform's inherent accuracy and repeatability is ideal for demanding technologies, achieving print-on-print capability (PoP) - +/- 12.5 microns at 2 Cpk.

Ideal for solar manufacturers seeking to enhance cell efficiency and drive down cost-per-watt, print-on-print is designed to give finer grid lines more height, printing the lines twice over or more to increase the conductor's cross-sectional area and enhance current-carrying capacity without shadowing the underlying silicon substrate. Since repeatable accuracy is the key enabler in this process, the PV3000 is an ideal solution for progressive processes such as print-on-print. The DEK Solar team will also be introducing AsiaSolar Energy Photovoltaic Forum visitors to its extensive range of precision screens and stencils - extending its support for advanced processes even further. Precision screens on show include variants with a base layer print for frontside grids, a second layer print designed to boost conductivity and a pioneering new hybrid solar screen. DEK will also be demonstrating its new high durability Double Layer Platinum stencil at the show, featuring a high aspect ratio for fine line prints.

Commenting on DEK's presence at AsiaSolar Energy Photovoltaic Forum, DEK's Alternative Energy Business Manager, Darren Brown, explains: "We're really looking forward to taking the PV3000 to the AsiaSolar exhibition, since it's a great opportunity to showcase our unique offering to the Asian market - where we're already experiencing high levels of growth. Part of our success in this region and indeed around the world, is based on our commitment to thinking beyond equipment. We don't simply sell equipment. We install it, from metallization lines and print platforms, through to precision screens and stencils. And, thanks to a long history in the SMT and Semiconductor markets, we support it with award-winning service and process consultancy. Backed by this commitment, the PV3000 delivers a revolutionary metallization concept for today's solar cell manufacturers - as visitors to our AsiaSolar Energy Photovoltaic stand will discover!"

About DEK Solar

DEK is a global provider of next-generation technologies and process support to solar cell manufacturers with solutions that include modular metallization platforms, precision screens and materials applications used in back side field coating, current-collector pattern and termination deposition for photovoltaic substrate production. For more information, visit DEK Solar at www.deksolar.com.


More from Electronic Components & Devices