Decorative Architectural Elements offer alternative to wood.
Press Release Summary: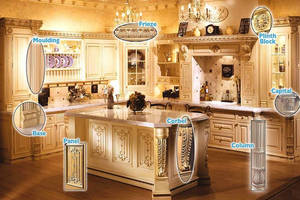 Resin Artisan Collection, utilizing combination of hardwood maple and resin, includes 1,300+ castings/designs and does not exhibit characteristic adversities typically associated with wood: knots, warping, cupping, and staining inconsistencies. Inherently consistent in density, non-porous hybrid resin component facilitates cutting and stain dispersion for uniform fit and finish. Aesthetics are inspired by historical and classical designs.
---
Original Press Release:

Outwater Introduces the Resin Artisan Collection of Architectural Decorative Elements



Bogota, NJ (www.outwater.com) - Utilizing hybrid technology in its manufacture, which employs the unprecedented proprietary combination of hardwood maple and resin, Outwater's [Outwater Plastics Industries, Inc. + Architectural Products by Outwater, LLC] newly introduced Resin Artisan Collection of Architectural Decorative Elements has substantial benefits over wood decorative ornamentation in that it is free of typical characteristic adversities often encountered when working with wood, such as having to contend with knots, warping, cupping and staining inconsistencies, not to mention that it is also comparatively lower in cost than its wood counterpart. Not only does Outwater's Resin Artisan Collection handle and tool better than wood decorative ornamentation, its hybrid resin component, which is both inherently consistent in its density as well as non porous, enables easy cutting and even stain dispersion, resulting in a beautiful and uniform fit and finish.

Well suited for use in a wide variety of diversified applications, which include ornamentation for furniture, doors, cabinets, walls and ceilings, Outwater's Resin Artisan Collection not only captures a depth and definition of design unequaled in other media, the intricacy and unparalleled detail within every piece of the collection conveys a level of quality and craftsmanship wholly comparable to the most costly wood carvings and plaster decorative ornamentation on the market!

Inspired by popular historical and classical designs, Outwater's Resin Artisan Collection will indiscriminately augment the beauty and refinement of any environment in which it is utilized by extraordinarily transforming any conventional, nondescript article or entity into an exquisitely furnished point of focus.

Outwater's Resin Artisan Collection consists of over 1,300 Castings/Designs, and includes the following decorative elements: Mouldings, Columns & Capitals, Corbels, Medallions, Ceiling Ornamentation, Sconces, Scrolls, Panels, Keystones, Rosettes, Bases, Cartouches, Centers, Corner Ornamentation, Onlays, Decos, Drops, Faces, Finials, Festoons, Friezes, Swags, Plinth Blocks, Pulls, Rings and other Specialty Decorative Ornamentation.

About Outwater Plastics Industries, Inc. + Architectural Products by Outwater, LLC:
Outwater Plastics Industries, Inc. + Architectural Products by Outwater, LLC can be contacted Toll Free at 1-800-631-8375 (For sales and product information in the USA & Canada) / 1-201-498-8750 (For sales and product information outside of the USA & Canada) or viewed online at www.outwater.com

From the vendor of a single product in August 1972, Outwater Plastics Industries, Inc. + Architectural Products by Outwater, LLC, with sales and distribution facilities in New Jersey and Arizona, are recognized today as well established international manufacturers and stocking distributors of more than 65,000 standard and innovative component products required by woodworkers, cabinet and furniture manufacturers, builders, remodelers, designers, architects, point-of-purchase and display fixturing manufacturers, OEM's, as well as a very diversified range of other commercial and retail end users.

Major Product Categories include Plastic & Aluminum Extrusions; Lighting and Lighting Accessories; Furniture, Cabinet & Store Fixture Components; Knobs & Pulls; Casters; Fasteners; Laminates; The FOGA Exhibit & Display Fastening System; The Klem Connector; Literature Displays; Slatwall; Sign Holders; P.O.P Components; Display Motors & Turntables; Pedestals; Injection Molded Parts; Brass Tubing & Fittings; Surfacing Materials; Interior & Exterior Polymer & Wood Architectural Mouldings & Millwork; ORAC DECOR and DEM Architectural Mouldings & Millwork; Columns & Capitals; Balustrading; Wrought Iron Components; Decorative Stamped Steel & Polymer Ceiling Panels; Wainscoting; Wall Coverings; Fireplace Surrounds; Plastic "Glass" Block; Plaster Architectural Elements; Period & Contemporary Hardware; Kitchen & Bath Accessories; Kitchen & Bath Cabinetry and Vanities... and so much more!

Contact:
Joey Shimm, Director of Marketing
Outwater Plastics Industries, Inc. + Architectural Products by Outwater, LLC
(201) 498-8750

More from Packaging Products & Equipment