Deburring Tool is suited for use with thick turrets.
Press Release Summary: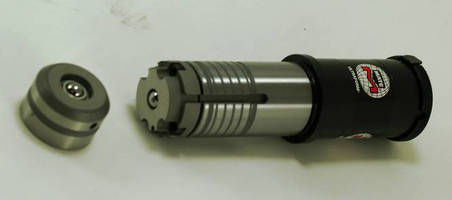 Mate Rollerball Deburr(TM) tool, available in thick turret and Trumpf Style versions, allows operators to perform punching/deburring of materials in one step. System utilizes Rollerball(TM) technology that uses programming capabilities of presses that operate in X and Y axes with ram down. Ball in both upper/lower sections of tool allows every part contour to be processed. Three springs that allow users to adjust tension appropriate to material being punched are also included.
---
Original Press Release:

Deburring Tool for Thick Turrets



Sheetmetal machinery specialist Maxitec has released the Mate Rollerball Deburr(TM) tool that is suitable for thick turrets and Trumpf style applications.

The equipment effectively eliminates one existing, time-consuming process in punching routines. As the punching process frequently causes burrs on sheet metal parts, removing them requires secondary deburring operations that are either performed manually or use specialised equipment.

With Mate's new Rollerball Deburr tool, operators can eliminate these costly secondary operations right at the punch press. Rollerball Deburr is available in both thick turret (B-Station) and Trumpf Style versions.

Mate's Rollerball Deburr tool takes advantage of the manufacturer's its Rollerball(TM) technology, which uses the extended programming capabilities of presses that can operate in the x and y axis with the ram down.

Rollerball Deburr pushes the burr away and creates a radius on the side of the part.
Using a special ball in both the upper and lower part of the tool, every possible part contour can be processed-even small corners. Mate Rollerball Deburr can be used with materials mild steel, stainless steel and aluminum materials.

Sold as a set, Rollerball Deburr comes complete with everything the customer needs, including three springs that allow them to adjust the tension appropriate to the material being punched.

For more information, please contact Mr Andrew Bentrup, Maxitec Pty Ltd. Unit 2/29
Mangrove Lane, Taren Pt, NSW 2229.

Ph: (02) 8536 5800, fax: (02) 8536 5840. email: andrew@maxitec.com.au

In New Zealand: Maxitec NZ Ltd

PO Box 7786 Sydenham Christchurch NEW ZEALAND

Ph: (03) 341 1080 fax: (03) 341 1090

More from Explosives, Armaments, and Weaponry