De-Chlorination Analyzer measures near 0 levels of chlorine.
Press Release Summary: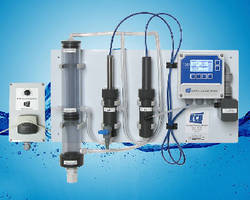 Utilizing zero-shift method to ensure stable chlorine measurement, plug-n-play DC80 is suited for municipal water systems and industrial cooling water. Unit monitors chlorine from 0.05–20 ppm and includes built-in automatic pH compensation for samples from 4–12 pH. Available with 110–240 Vac or 24 Vdc power, analyzer features dual measurements, two 4–20 mA outputs, and 3 alarm relays. Auto clean option includes solenoid actuated spray cleaner using 30 psi process water or air.
---
Original Press Release:

New ECD DC80 De-Chlorination Analyzer Measures Near Zero Levels of Chlorine for Repeatable Accuracy



Ideal for De-Chlorination Applications Including  Municipal Water Systems and Industrial Cooling Water



Irvine, CA — Municipal water system and industrial process engineers in search of an analyzer that accurately measures near zero levels of chlorine will want to learn more about the plug-n-play DC80 De-Chlorination Analyzer from Electro-Chemical Devices (ECD), which utilizes a zero-shift method to ensure stable and reliable chlorine measurement.



Conventional amperometric chlorine sensors are unstable when measuring near zero amounts of chlorine, which can lead to inaccurate and inconsistent readings. The DC80 De-Chlorination Analyzer utilizes a "zero-shift" methodology to provide accurate measurement and to protect total chlorine sensors from damage, which naturally occurs when the water samples measured contains near zero or zero levels of chlorine.



For example in wastewater treatment when monitoring for chlorine just before outfall, there can be no chlorine present and yet measurement is still necessary.  If there is no chlorine present then the electrode becomes unstable and finally unresponsive. Therefore the very process of measuring de-chlorination becomes problematic. If all of the chlorine is removed then the sensor will provide an inaccurate reading after a few hours and fail after a few days still reporting zero chlorine



The DC80 De-Chlorination Analyzer solves this problem:  It is a total chlorine analyzer that uses the "zero shift" strategy to monitor near zero amounts of total chlorine. Chlorine is metered into the sample shifting the zero from a near zero chlorine concentration to a measurable value. The analyzer's offset feature allows the metered value to be subtracted from the measurement.



The DC-80 De-Chlorination Analyzer monitors chlorine in drinking water, wastewater, cooling water and other de-chlorination applications from 0.05 – 20 ppm. Its mounted system includes built-in flow control, which eliminates the need for complicated plug-and-play design installs quickly right out of the box.  The DC80's advanced panel pressure regulators and rotometers.  Built-in automatic pH compensation for samples between 4 and 12 pH also eliminates the need for expensive reagents to reduce maintenance and life-cycle costs.



The analyzer's total chlorine sensor is a three electrode amperometric sensor with a gold cathode, silver halide anode and 304 stainless steel counter electrode. The counter electrode provides a stable base potential that minimizes drift for superior accuracy. The total chlorine sensor has a micro-porous membrane that allows ions to diffuse in and out of the sensor.



The analyzer's pH sensor provides accurate compensation for samples between 4 and 12 pH, which eliminates the need for a sample conditioning system. The total chlorine sensor graphically displays both the total chlorine and pH levels for easy trend analysis. 



The DC80 Analyzer is available with either 110-240 VAC or 24 VDC power.  The standard configuration features dual measurements, two 4-20 mA outputs and three alarm relays. The user friendly DC80 also is available with an auto clean option that includes a solenoid actuated spray cleaner using either 30 psi process water or air. An easily adjusted timer controls the period and duration of the cleaning cycle.



About Electro-Chemical Devices

Electro-Chemical Devices (ECD) is a manufacturer of liquid analytical process instrumentation. Founded in 1977, ECD has been in business for over 30 years and has built its industry leading reputation by its commitment to customers through this basic approach: Provide quality products, develop technical innovations and provide responsive, knowledgeable service.



Company Contact:  Joe Bradley

Company Address:  1681 Kettering, Irvine, CA 92614 USA

Web:  http://www.ecdi.com   Email:  sales@ecdi.com

Tel: 800-729-1333 Tel: 949-336-6060  Fax:  949-336-6064

More from Laboratory and Research Supplies and Equipment