DC150 Solid Carbide Drills come with coolant through tool body.
Press Release Summary: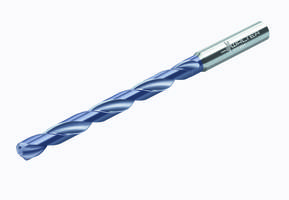 Having length-to-diameter ratio drills, DC150 3xD and12xD Solid Carbide Drills has 140° point angle with through coolant. Available in DIN 6535 cylindrical shank and having 0.12 to 0.63 in. diameter, drills can be used in material groups P, M, K, N, S, H and O and in industrial general machining applications.
---
Original Press Release:
The New Walter Titex Perform DC150 3xD and 12xD Solid Carbide Drills Deliver Quality and Reliability for Everyday Machining.
Tough and versatile, these latest additions to the Walter Titex Perform lineup of high quality yet cost effective products are suitable for most industries and applications.
Walter has introduced two new products for the DC150 drill lineup: 3xD and12xD, both with coolant through the tool body. The DC150 is positioned in the Perform line—a tough, versatile and cost effective Walter Titex family of solid carbide drills. The two, new length-to-diameter ratio drills join the 5xD and 8xD drills. Like the earlier entries in the DC150 line, these new drills bring Walter quality and reliability to the real world of everyday machining.
The DC150 product family of drills features a point angle of 140° with through coolant, and are available with cylindrical shank (DIN 6535). All drills offered in the DC150 family are for universal use, which means they can be used with material groups P, M, K, N, S, H, and O.
Typically, in most plants, alongside high-tech production lines you will find older machines with lower speeds often doing vital work. These are the machines that handle the one-offs, repair work, small lots and other jobs that don't merit being scheduled on an advanced production line, yet constitute an important part of the work of the shop. It is for these machines and this work that Walter developed the DC150. With diameter ranges from 0.12 to 0.63 in. (3 to 16 mm), the DC150 family of drills delivers Walter quality and process reliability, yet at a price that makes sense for these applications. Best of all, the DC150 can be universally used for all materials and in all industries, especially in general machining applications.
Walter, a global leader in the metalworking industry with over 90 years of experience in precision cutting tools for milling, drilling, turning, boring and specialized tools, helps customers improve process reliability and increase productivity. With Regional Headquarters in Waukesha, WI, Walter markets its competence brands Walter Valenite, Walter Titex, Walter Prototyp and Walter Multiply through a strong network of distributors and field engineers across subsidiaries in the USA, Canada, Mexico, Brazil and Argentina.
Walter USA, LLC
N22 W23855 Ridgeview Pkwy West
Waukesha, WI 53188
800.945.5554
Kurt Ludeking, Director of Marketing
kurt.ludeking@walter-tools.com
Related