DC Power Supplies offer system monitoring and analysis.
Press Release Summary: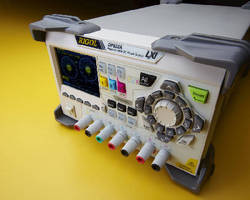 Combining control, monitoring, and analysis of voltage, current, and power with multi-instrument triggering capability, DP800 Series delivers up to 195 W and can float up to 240 V from ground. Timer control allows engineer to set burn-in or other test voltage or current profiles to run automatically for hours and is repeatable with groups, cycle counts, and specified end states. Series includes monitor function for tests that require real-time alarms, warnings, or shut off capabilities.
---
Original Press Release:

New DP800 Series DC Power Supplies from Rigol Offer Superior System Monitoring & Analysis Capabilities



Oakwood Village, OH -- Rigol Technologies, Inc., introduces the latest in their line of DC power supplies, the DP800 series.  Featuring advanced monitor, analysis and control capabilities, the DP800 series delivers a combination of high performance and low cost. The DP800 series are 3-channel power supplies capable of delivering up to 195 Watts and can float up to 240 V from ground, making it possible to configure a wide variety of high voltage signals with only a few instruments.



Rigol's DP800 series DC power supplies combine accurate control, monitoring, and analysis of voltage, current, and power with multi-instrument triggering capability. The result is true system level power delivery and analysis at the cost of many traditional basic power supplies.



The DP800 series also offers several advanced features such as timer control that allows the engineer to set burn-in or other test voltage or current profiles to run automatically for hours and is repeatable with groups, cycle counts, and specified end states. Additionally, there are several features for circuit protection including OVP, OCP and OTC (over voltage, over current and over temperature protection).



Other features include a monitor function for tests that require real-time alarms, warnings, or shut off capabilities. Engineers can use the on screen waveform display for real-time feedback to graphically depict critical changes in voltage, current, or power. Additionally, a new trigger I/O bus offers the ability to synchronize features across multiple instruments for testing of complex systems with multiple power requirements.



DP800 DC power supplies are fully configurable via front panel controls without the need for writing code. For testing that requires real-time PC decision-making, the DP800 series is equipped with LXI (Ethernet for instruments) as well as USB. For legacy systems or applications, RS-232 is available and GPIB can be accessed through an optional attachment.



On all DP800 supplies, Channel 1 is isolated from Channels 2 and 3, meaning that Channel 1 can be used in parallel or series to create higher currents or higher voltages. For even higher voltages, use the trigger I/O to coordinate channels across instruments. Channels across different instruments can be activated together from one button, using the I/O for coordination.



Pricing for the DP800 series begins at $409.



About Rigol Technologies:

Rigol Technologies, Inc, an ISO9001:2000 Quality Management System and ISO14001:2004 Environmental Management System Certified company, is one of the worldwide leaders in test and measurement instrumentation.  Rigol's premium line of products includes Digital Oscilloscopes, RF Spectrum Analyzers, Digital Multimeters, Function/Arbitrary Waveform Generators, and Digital Programmable Power Supplies. With their US Headquarters just outside of Cleveland, OH and their European Headquarters in Munich, Germany, Rigol offers products and services in over 60 countries/regions on six continents, with more than 150 distributors and representatives.



For more information, contact:

Chris Armstrong

General Manager

7401 First Place, Suite N

Oakwood Village, OH  44146

(PH) 440-232-4488

e-mail: info@rigol.com

www.Rigolna.com