DC Motors/Gearmotors provide smooth, quiet operation.
Press Release Summary: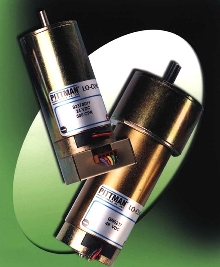 LO-COG® Series 9000 brush-commutated DC motors and gearmotors feature 7-slot skewed armatures to minimize magnetic cogging. Commutators are diamond turned after armature assembly for optimum concentricity. Motors are offered in 6 lengths, and achieve peak torques up to 77 oz-in. and speeds up to 8,250 rpm. Gearmotors are offered in 6 lengths with 12 ratios from 5.9:1 to 4732.5:1 and can provide peak torques to 175 oz-in. Copper graphite brushes are standard.
---
Original Press Release:
LO-COG® Series 9000 Brush DC Motors and Gearmotors Designed for Long Life and Quiet Operation

HARLEYSVILLE, PA, August 3, 2002 -- LO-COG® Series 9000 brush-commutated DC motors and gearmotors from Pittman are designed with features to provide smooth, quiet operation and long life. These brush DC motors and gearmotors can deliver performance and reliability to power a wide range of applications, including technology for computer peripherals, imaging, and clinical diagnostics.

LO-COG Series 9000 motors and gearmotors feature seven-slot skewed armatures to minimize magnetic cogging (or reluctance torque) even at low speeds, which promotes their smooth and quiet operation. Commutators are diamond turned after armature assembly to ensure optimum concentricity and long brush life.

LO-COG Series 9000 motors are available in six lengths and can achieve peak torques up to 77 oz-in and speeds up to 8,250 RPM. LO-COG Series GM9000 gearmotors are offered in six lengths with 12 ratios from 5.9:1 to 4732.5:1 and can provide peak torques to 175 oz-in (standard) or 500 oz-in (with high-torque wide-face gears). Speed, voltage, current, and torque characteristics can be varied to meet specific needs. Windings are resin-impregnated for greater reliability in incremental motion applications. Copper graphite brushes are standard.

Modular construction enables customization with alternate brush materials, encoders, timing belt pulleys, brakes, cables, connectors, modified shafts, and RFI suppression or other special
configurations to meet application requirements.

Contact John Wolfe, Pittman, 343 Godshall Drive, Harleysville, PA 19438-0003. Phone: (877) 748-8626 or (215) 256-6601; Fax: (215) 256-1338. Web site: www.pittmannet.com
More from Architectural & Civil Engineering Products