DC Motor is suited for light duty belt conveyors.
Press Release Summary: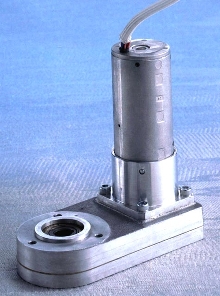 Micro-Motor 24V brushless DC geared motor has right angle design that fits into 2 3/4 in. conveyor frame. Gearbox transfers 99% of motor output power to belt drive pulley. Driver card controls and activates motor allowing varying conveyor speed and change of travel direction. Micro-Motor has torque rating up to 112 in. lbs and can drive 1.9, 2.25 or 2.5 in. belt drive pulleys. Drive system moves loads up to 25 lbs at speeds ranging from 6 to 193 fpm.
---
Original Press Release:
Sparks To Unveil Powerful, Low Profile Micro-Motor For Light Duty Belt Conveyors At NA 2002

Sparks Automated Solutions will be unveiling their patent-pending, Micro-Motor, a 24 volt Brushless DC geared motor that requires less space and has considerablv higher operating efficiency when compared to conventional conveyor belt drive systems, at NA 2002, Booth #2619, April 8-11, Cobo Hall, Detroit, Mich. The Micro-Motor is ideally suited for light-duty belt conveyor applications, such as pharmaceutical, cosmetic
packaging and electronics assembly. Micro-Motor features a compact right angle design that fits into a 2 3/4-inch conveyor frame with only an inch of external clearance. The Micro-Motor unit with driver card for motor control provides reliable, safe and maintenance-free operation in either continuous or high-indexing applications.

Micro-Motor allows systems designers the flexibility and freedom to pack more conveyor drive power into less space. The right angle drive design combines a powerful Brushless DC motor with a proprietary small gearbox that transfers 99 percent of motor
output power to the belt drive pulley. Drive efficiency is increased by more than 35 percent when compared to conventional "multi-component" drive systems that rely on
separate motors, worm-gear reducers, chains, sprockets or couplings.

The driver card controls and activates the motor allowing users the flexibility to vary conveyor speed and change travel direction. The card permits dynamic braking for quick controlled stops and has a built-in safety feature that protects the motor from overheating.

Micro-Motor Specifications

The 4-inch long Micro-Motor has a torque rating as high as 112 inch/pounds and is capable of driving either 1.9-, 2.25- or 2.5-inch belt drive pulleys. The drive system moves loads of up to 25 pounds at speeds ranging from 6 to 193 feet per minute. The motor can operate efficiently in a temperature range from 14°F to 120°F.


More from Agricultural & Farming Products