DC to AC Power Supplies (Inverters)
DC Inverter provides AC outlet in overhead cranes.
Press Release Summary: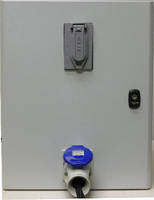 Designed for overhead cranes that operate on ~250 Vdc bus and have no AC power, Adelser Crane Inverter enables operator to use ordinary 110 or 220 Vac air conditioner in cabins that can reach over 100°F. IP55-rated unit operates on DC input from 200-600 Vdc and will auto shutdown with auto restart if voltage goes outside safe range. Output power is 20 A on 110 Vac, which is enough to run 15,000 BTU air conditioner.
---
Original Press Release:
DC Inverter for 250VDC Crane bus; 110/220VAC for Air Conditioner
Adelser is pleased to announce a new DC inverter to provide an AC outlet in the overhead crane cabin so the operator can use an ordinary 110 or 220VAC air conditioner. The Adelser Crane Inverter is designed to fill a niche in heavy industry where there is a DC crane with an operator cabin, commonly used in steel mills, cargo loading, or other heavy industry. These cranes operate on a ~250VDC bus, and have no AC power. The 250VDC bus can swing from 100 to 700VDC depending on the load and the regenerative braking. Ambient temperatures within the crane cabin can sometimes reach over 100°F, causing operator fatigue and downtime related to cooling the crane operator. Our Crane Inverter is IP55 rated (rain proof, protected from dust), and is rated to operate on a DC input from 200-600VDC (700VDC if for less than 10 seconds), and will auto shutdown with auto restart if the voltage goes outside the safe voltage range. The output power is 20A on 110VAC, which is enough power to run a 15000 BTU Air Conditioner. Installation is easy, and we have separated the unit into two boxes to facilitate carrying the unit up a ladder and installing on the crane cabin or any nearby structure. Please see the Adelser website for more information: www.adelser.com/IMG/pdf/DOC-SE-001-5-1.pdf or www.adelser.com, or call 919-481-6895.
More from Materials