DC to DC Power Supplies (Converters)
DC/DC Synchronous Buck Regulator supports SD Flash Memory.
Press Release Summary: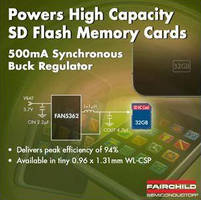 Model FAN5362 features VIN of 3.6 V and VOUT of 2.9 V, allowing it to deliver peak efficiency of 94% and maintain over 86% efficiency at light load of 1 mA. As battery approaches lower end of range, unit transitions seamlessly into and out of 100% duty cycle operation and is designed to respond with minimal under and overshoot. Measuring 0.96 x 1.31 mm with 0.6 mm profile, 3 MHz, 500 mA regulator works in conjunction with small I/O capacitors and 0805 multilayer chip inductors.
---
Original Press Release:

Fairchild Semiconductor's Buck Converter Efficiently Powers High Capacity SD Flash Memory Applications



Device Offers Optimized Control for Low Headroom Operation

SAN JOSE, Calif. - As mobile handsets and other portable devices increase their demand for memory storage, there is an emerging need to power increasingly larger SD Flash Memory cards. To meet this requirement, Fairchild Semiconductor (NYSE: FCS) developed the FAN5362, a 3MHz 500mA synchronous Buck regulator, using a proprietary architecture with synchronous rectification. The device is ideal for cell phone designers who need to support high capacity (e.g. 8, 16, 32GB, etc.) SD Flash Memory cards.

The nominal voltage level required for powering SD Flash Memory is 2.9V. With a VIN of 3.6V and a VOUT of 2.9V, the FAN5362 is capable of delivering a peak efficiency of 94 percent, while maintaining over 86 percent efficiency at light load (1mA). Unlike current LDOs which burn too much power, and typical Buck converters which can't gracefully handle low headroom conditions, the FAN5362 provides high efficiency and optimized control designed specifically for low headroom operation.

Li-Ion batteries have an effective voltage range of 3.2 - 4.2V. It is the lower end of the battery voltage range which creates the low headroom application challenges. To prevent this, as the battery approaches the lower end of its range, the FAN5362 is able to transition seamlessly into and out of 100 percent duty cycle operation. Even battery voltage level transients caused by GSM pulses will not cause turmoil on the FAN5362's output because the FAN5362 is designed to respond with minimal under and overshoot.

The FAN5362 works in conjunction with small input/output capacitors and 0805 multi-layer chip inductors. Compatibility with these passive components allows system designers to pick chip inductors and capacitors that consume less board space at a lower cost, resulting in smaller and more affordable end applications. This DC/DC converter is packaged in a 0.96 X 1.31mm WL-CSP package with a sleek, low profile of 0.6mm, conserving board space for these space-constrained applications.
While targeted towards 2.9V SD Flash Memory, the FAN5362 is also available in other fixed output voltage options ranging from 1.8 - 3.6V. This easy-to-design solution supports the quick design cycles found in the mobile device market, making it an ideal choice for cell phones, tablets, eBooks, PMPs, DSCs, GPS and lithium-ion portables.

The FAN5362 is another example of Fairchild's broad solutions that extend battery life and conserve board space in portable and consumer designs. With a substantial portfolio of analog and power IP, along with system-level expertise, Fairchild develops solutions that define both user satisfaction and market success.

Price: US$.49 in 1,000 piece quantities

Availability: samples available now

Delivery: 12 weeks ARO

Contact Information:

To contact Fairchild Semiconductor about this product, please go to: www.fairchildsemi.com/cf/sales_contacts/

For information on other products, design tools and sales contacts, please visit: www.fairchildsemi.com

For a datasheet in PDF format, please go to:
http://www.fairchildsemi.com/ds/FA/FAN5362.pdf

Follow us on Twitter @ http://twitter.com/FairchildSemi

View product and company videos, listen to podcasts and comment on our blog @ www.fairchildsemi.com/engineeringconnections

Visit us on Facebook @ http://www.facebook.com/FairchildSemiconductor

About Fairchild Semiconductor:

Fairchild Semiconductor (NYSE: FCS) - global presence, local support, smart ideas. Fairchild delivers energy-efficient, easy-to-use and value-added semiconductor solutions for power and mobile designs. We help our customers differentiate their products and solve difficult technical challenges with our expertise in power and signal path products. Please contact us on the web at www.fairchildsemi.com.

More from Portable Tools