DC to DC Power Supplies (Converters)
DC-DC Converters target railway applications.
Press Release Summary: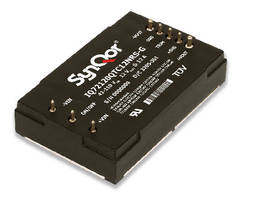 Completely encased for protection in harsh environments, quarter-brick InQor® IQ72 Series provides output power from 58-150 W and uses synchronous rectification to achieve efficiencies up to 91%. Board-mountable, isolated, fixed switching frequency units feature input voltage range of 42-110 V and provide 9 output voltages of 1.8, 3.3, 5, 7, 12, 15, 24, 30, and 48 V. Two converters of different power levels are available for each output voltage for total of 18 models.
---
Original Press Release:

SynQor Develops Highest Power and Efficiency Quarter Brick DC-DC Converter Series for Railway Applications



42V-110V input range with up to 91% efficiency

9 output voltages; power levels from 58-150W

InQor® industry-standard quarter-brick format

BOXBOROUGH, Mass., September 29, 2009 -SynQor announces the InQor® IQ72 series of quarter-brick dc-dc converters. These ruggedized next-generation, board-mountable, isolated, fixed switching frequency industrial dc-dc converters use synchronous rectification to achieve power conversion efficiencies up to 91% at full load. Each module is supplied completely encased to provide protection from harsh environments.

The 42-110V input voltage range and the broad selection of output voltages and power levels makes the IQ72 quarter brick series suitable for a variety of 72V systems, such as industrial automation, locomotive and railway electronics.

The robust IQ72 series further expands the InQor family of fully encased and ruggedized isolated dc/dc converters for industrial and transportation applications. With an operating temperature range of -40°C to +100°C the quarter-brick format is comprised of nine output voltages, including 1.8V, 3.3V, 5V, 7V, 12V, 15V, 24V, 30V, and 48V. Two converters of different power levels are available for each output voltage for a total of 18 models. These IQ72 series converters provide output power ratings ranging from 58W to 150W.

The versatile IQ72 series addresses many of the UK BRB/RIA12 and French NFF 01-510 railway standards and the EU EN50155 standard requirements for "Railways Applications Electronic Equipment Used on Rolling Stock" for 72V batteries with no voltage stabilization. The series also meets the three main electrical requirements of permanent input voltage, 100ms brownout and 1s transient. The use of fixed switching frequency technology provides predictable EMI performance which greatly simplifies filtering design.

The feature rich IQ72 series of dc/dc converters provides on/off control referenced to the input side, remote sense for the output voltage and an output voltage trim range of -20%, +10%. Protection features include input under-voltage lockout, output current limit and short circuit protection, active back bias limit, output over-voltage protection and thermal shutdown. All models have at least 3000Vdc, 100MW REINFORCED input-to-output isolation, have calculated MTBF values in excess of 2MHrs, and are fully 6/6 RoHS compliant.

The IQ72 series is available immediately from stock for evaluation and qualification. Production quantities are available with 8-12 week lead-times, depending upon volumes. For more information please visit www.synqor.com/inqor or contact your local SynQor representative.

About SynQor

SynQor, headquartered in Boxborough, Massachusetts is a leading supplier of power conversion solutions to the communications, computing, medical, military and industrial markets. SynQor's innovative products are designed to exceed the demanding performance, quality, and reliability requirements of today's power electronic engineers that are developing leading-edge infrastructure hardware. Our global customer base extends from small Original Equipment Manufacturers to Fortune 500 multinationals and includes the 12 largest telecom OEMs in the world. SynQor's capabilities include both standard and custom solutions for distributed power architectures and we deliver them with industry leading service and support. SynQor's total commitment to quality, customer satisfaction and continuous improvement drive our business processes and lay the foundation for our success. For more information about SynQor and its products, please visit the company's web site at www.synqor.com .

More from Electronic Components & Devices