DC to DC Power Supplies (Converters)
DC/DC Converters provide up to 40 W of power.
Press Release Summary: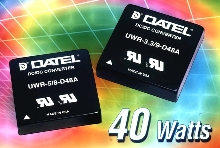 A-Series 2 x 2 in. DC/DC converters handle temperatures from -40 to 55°C. UWR 26 to 40 W, single-output, switching DC/DC converters utilize fixed-frequency, fully synchronous, high-frequency (300 to 360 kHz) forward topology and automatically assembled, SMT-on-pcb (including magnetics) construction. Topology delivers efficiencies of 90% (5V models), low noise of 75 mVp-p, ±0.5% max. line/load regulation, and 200 microsecond quick step response.
---
Original Press Release:

26-40 Watt, Isolated DC/DC Converters Take Over Traditional 20 Watt Packages


Higher Efficiency Means 50-100% More Power/Current from the Standard 2" x 2" Package/Pinout

- 3.3V Outputs @ 8/9 Amps; 5V Outputs @ 7/8 Amps
- Choice of 3 Input Voltage Ranges:
10-18V, 18-36V, 36-75V
- Fully Synchronous Forward Topology Delivers:
Outstanding Efficiencies, 88-90%
Wide Temp. Range, -40 to +55°C w/o Derating
Low Output Noise, 75mVp-p
Tight Setpoint Accuracy, ±1%
Quick Step Response, 200 microsec
Stable No-Load Operation
- On/Off Control and VOUT Trim Pins
- I/O Protected; Thermal Shutdown
- ULUEN/IEC60950 Certified; CE Marked; EMC Compliant
- Prices Start @ $40 (USA, 10k Pieces)
- Order On-Line @ www.datel.com

These newest products in DATEL's long-standing A-Series represent the state-of-the-art for standard 2" x 2" DC/DC converters. They exemplify DATEL's relentless drive to deliver more power/current, in standard packages, at lower $/Watt, without compromising reliability or resorting to thermal specmanship.

The Most Power/Current from This Form Factor
Up to 40 Watts of power is now available from the standard 2" x 2" package formerly associated with 15-20W devices. DATEL's new UWR 26-40W, single-output, switching DC/DC converters unite a fixed-frequency, fully synchronous, forward topology with the newest, low-on-resistance power FET's to deliver the highest efficiencies . . . and consequently the most power . . . of any products in this long-standing form factor. (See Backgrounder)

Everyone Wants More Power from Standard Packages...
. . . but not if it costs more, compromises reliability, or requires heat sinking. The 26-40W UWR's, at once, deliver higher power, low cost and high reliability by implementing their high-efficiency designs using 100% automatically assembled, SMT-on-pcb (including magnetics) construction. For added thermal efficiency and ruggedness, these DC/DC's are encapsulated with a thermally-conductive potting compound in standard metal packages.

Topology . . . Performance . . . Temperatures
The 26-40W UWR's best-in-class power density is achieved with an advanced, fully synchronous, high-frequency (300-360kHz), forward topology that delivers: high efficiency (90% for 5VOUT models), low noise (75mVp-p), tight line/load regulation (±0.5% max. for both), quick step response (200 microsec), stable no-load operation (for circuits going into "sleep" mode), and no output reverse conduction.

High efficiency enables more output power over temperature than all competing DC/DC's in the 2" x 2" form factor. The most powerful models in UWR Series all deliver full power to at least +55 deg C (ambient) without heat sinks or supplemental air flow.

The Basics:
The 6 basic models in the Family offer 2 output voltages (3.3V and 5V) and 3 input voltage ranges (10-18V, 18-36V and 36-75V). All are fully isolated (1500Vdc guaranteed), and I/O protected including input pi filters, input overvoltage shutdown and undervoltage lockout, output overvoltage protection, current limiting, short-circuit protection, and thermal shutdown). Each model has a VOUT trim pin and an on/off control function that may be ordered with either positive (high = on) or negative polarity.

Qualified and Safe
All UWR 26-40W DC/DC's satisfy UL/EN/IEC60950 safety requirements for FUNCTIONAL insulation. "D48" models (36-75V inputs) are CE marked. Safety reports, EMC compliance reports and qualification (including HALT) test reports are available upon request.

Price and Delivery
UWR 26-40W DC/DC Converters are attractively priced at $65 each (USA) in singles and $43 each for 1,000 pieces. Additional generous high-quantity discounts are available for OEM customers. Free evaluation units for qualified OEM's and/or pre-production quantities (<25 pieces) are immediately available from stock. Production quantities require 6-8 weeks.

Order @ Web Site
DATEL, Inc. pioneered e-commerce capabilities for DC/DC converters at its web site at www.datel.com. Small quantities of UWR 26-40W DC/DC Converters (or free sample/evaluation units) can be ordered directly from the site using credit cards.

Contacts:

Technical:
John Levrault
Applications Engineer, DC/DC Converters
Tel: (508)339-3000 x221, (800)233-2765 (USA)
Fax: (508)339-6356
E-mail: johnl@datel.com
Internet: www.datel.com

Editorial:
Bob Leonard
Product Marketing Manager
Tel: (508)339-3000 x241, (800)233-2765 (USA)
Fax: (508)339-6356
E-mail: bobl@datel.com
Internet: www.datel.com

Backgrounder

Improvements in Efficiency Leverage Big Power Gains

Ever since de facto packaging standards emerged in the highly fragmented DC/DC converter market, the standard 2" x 2" package has been associated with 15-20 Watt (output power) devices. In particular, 2x2, single-output converters have traditionally delivered the full 20 Watts while operating at 80 to 84% efficiency*.

The power-limiting factor for most DC/DC converters is the amount of heat generated within the package. A 20 Watt DC/DC operating at 82% efficiency draws 24.4 Watts of input power and dissipates approximately 4.4 Watts (the power required to run itself) within its package. With DATEL improving efficiency to 90%, a device pushing 40 Watts today requires a 44.4 Watt input, and the power dissipated in the package is still 4.4 Watts.

What the unenlightened may view as a 10% improvement in efficiency (82% to 90%), experienced designers recognize as an impressive 50% reduction in the rate at which power is dissipated within the package.

The 82% efficient 20 Watt device dissipates 4.4 Watts running itself. A 90% efficient 20 Watt device would dissipate only 2.2 Watts performing the same task. The more inefficient unit dissipates twice as much power. The difference is obviously significant.

Accepting that the standard 2" x 2" metal package is capable of reliably dissipating only 4-5 Watts, the only way to get more power from that package is to improve efficiency . . . and that's what DATEL has done. Our new UWR 26-40W A-Series DC/DC Converters are able to deliver 50-100% more output power than virtually all competing devices.

Improvements in efficiency can obviously lead to increases in output power. Additionally, they can enable smaller packages, or higher operating temperatures, if output power is held constant.

*Efficiency is straightforwardly calculated as output power (POUT) divided by input power (PIN). Efficiency = POUT/PIN.

More from Cleaning Products & Equipment