DC to DC Power Supplies (Converters)
DC/DC Converters operate from nominal 3.3 V source.
Press Release Summary: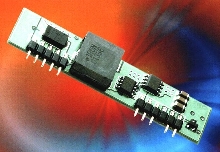 V7PC-10C series non-isolated, step-down DC/DC converters provide up to 10 A output current from 3.3 V bus input. Output voltages range from 2.5 to 1.0 V; efficiencies range up to 92% full load. Singe-in-line (SIP) converters with thermal management require less than 1 square in. of PCB space. Operate to 70° C with no derating over 3.0 to 3.6 V input range. Optional remote sense pin is available.
---
Original Press Release:
Newest Non-Isolated DC/DC Converters From Bel Operate From Nominal 3.3V Source

10 Amp Converter Series Offers an Economical Solution To Powering Low-voltage Silicon

Jersey City, NJ, May 6, 2002. . .Bel, A premier developer of magnetic-based solutions for networking and computing applications, has today announced the availability of the V7PC-10C series of non-isolated step-down DC/DC converters. The seventh series of power converters released in 2002 from Bel's Power Products Division, the new modules are specifically engineered to provide up to 10A of output current from the increasingly preferred 3.3V bus input. The series is comprised of devices with output voltages ranging from 2.5V down to 1.0V, including a 2.5V unit boasting state-of-the-art efficiency of 92% at full load. Priced at under $10.00 each, these singe-in-line (SIP) converters frequently cost 20% to 40% less than comparable products.

Their high-efficiency design, coupled with robust thermal management, enables Bel's new components to provide 10A of output current in the same footprint as many competitors' parts providing only 6A. Requiring less than one square inch of PCB real estate, these pre-tested and pre-qualified units are ideal for use by designers charged with conserving board pace as well as shortening time-to-market. They may be specified for use in a wide array of products and systems employing low-voltage silicon, and where a 3.3V bus is available. The converters are targeted for such applications as computers and peripherals, telecommunications, networking, test, and industrial automation equipment.

In addition to high efficiency and superior thermal performance, the V7PC-10C series of non-isolated DC/DC step-down converters operates to 70 deg C with no derating over a 3.0 to 3.6V input range. Further, an optional remote sense pin is offered for applications demanding precision regulation of low-output voltages.

Pricing for Bel's V7PC-10C series starts at $9.75 each, in quantities of 10K. Delivery is from 4 to 6 weeks, while samples are immediately available. Specifications are accessible on the company's web site.

About Bel

Bel (www.belfuse.com) and its subsidiaries are engaged in the design, manufacture and sale of products used in networking, telecommunications, high speed data transmission, automotive and consumer electronics. Products include integrated connector modules, magnetics, fuses, power conversion modules, and thick film hybrids. The company operates facilities around the world.


More from Agricultural & Farming Products