DC to DC Power Supplies (Converters)
DC-DC Converters offer configurable output voltage.
Press Release Summary: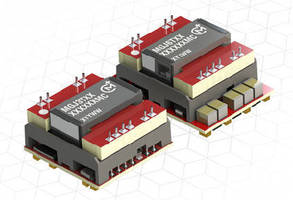 Rated at 3 W and 6 W, respectively, Series MGJ3 and MGJ6 serve as high-side and low-side gate drivers in IGBT and MOSFET bridge circuit designs. Surface mount units provide triple output voltages of +15, +5, and + 5 Vdc. Outputs are configurable to suit circuit requirements, such as +15 and -5 Vdc or +20 and -5 Vdc. Available with input ranges from 4.5–9, 9–18, and 18–36 Vdc, converters operate from -40 to +105°C and are suited for motor drives, traction control drives, and wind turbine generators.
---
Original Press Release:

Configurable Output Voltage, High Isolation DC-DC Converters for IGBT and MOSFET Gate Drive Applications



Murata has announced the MGJ3 and MGJ6 series of configurable output voltage, high isolation DC-DC converters from Murata Power Solutions. These 3 Watt and 6 Watt surface mounted devices are optimized for use as high-side and low-side gate drivers in IGBT and MOSFET bridge circuit designs. Providing triple output voltages of +15, +5 and +5 VDC, these converters provide optimum switching of IGBT drives for best overall system efficiency. In addition, the outputs are configurable to suit a number of different circuit requirements such as +15 and -5 VDC or +20 and -5 VDC.



Both the MGJ3 3 Watt and the MGJ6 6 watt converters are available with a choice of wide input voltages around nominal +5, +12, or +24 VDC inputs. The input ranges are 4.5 to 9 VDC (+5 VDC nominal), 9 to 18 VDC (+12 VDC nominal) and 18 to 36 VDC (+24 VDC nominal).



The MGJ3 measures 23.11 x 22.61 x 14.65 mm and the MGJ6 is 31.24 x 22.61 x 14.65 mm. Both series can operate over the wide temperature range from -40 to +105°C. Short circuit and overload protection features ensure a robust operation during system fault conditions. Other control inputs include a disable pin to facilitate power saving and a frequency synchronization input that aids EMC filter design.



Typical applications for the MGJ series include use in motor drives, traction control drives, and wind turbine generators.



Lead-time is from stock to 10 weeks. Pricing in OEM quantities is US$11.20 for the MGJ3; for the MGJ6, US$14.70.

 

Further editorial information from:

John Sutherby

General Manager, Marketing Communications

Murata Electronics

Tel: +1-508-964-5117

E-mail: jsutherby@murata.com



About Murata Power Solutions

Murata Power Solutions (www.murata-ps.com) is headquartered in Mansfield, Massachusetts, with over 1,300 employees worldwide. Murata Power Solutions designs, manufactures and distributes DC-DC Converter, AC-DC Power Supply, Magnetic and Digital Panel Meter product lines, and offers these products in custom, standard and modified-standard variations. Murata Power Solutions products are typically used within electronic applications serving major global market sectors including telecommunications, computing and industrial controls.



Murata Power Solutions is a division of Murata Manufacturing Co., Ltd. (www.murata.com), a worldwide leader in the design, manufacture and sale of electronic components and power supply modules. Murata's devices are found in a wide range of applications including consumer and automotive electronics, and wireless devices. The company has employees and manufacturing facilities throughout the world.



© Murata Power Solutions Inc. All rights reserved

More from Electronic Components & Devices