DC to DC Power Supplies (Converters)
DC-DC Converters have compact, insulated design.
Press Release Summary: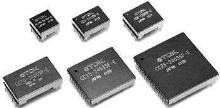 CC-E Series utilizes transformer core ferrite materials, multilayer ceramic capacitors, and terminal-board connection technique that reduces mounting area without changing pin positions. Products incorporate internal on-off remote control circuit as well as output voltage variable function. Series includes 136 models, including SMT types, with 5, 12, 24, and 48 V output voltages; 6 output wattages; and DIP/SMD terminal structures.
---
Original Press Release:

TDK Announces Mass Production of CC-E Series Compact Insulated DC-DC Converters


Tokyo, Japan, Apr. 14, 2005 - TDK Corporation (TSE: 6762; NYSE: TDK) is pleased to anounce that it has developed and started mass production of its CC-E Series of compact insulated DC-DC converters for use in communications devices and industrial equipment.

As electronic devices are being made more compact and with higher mounting densities, calls from manufacturers are increasing for DC-DC converters that take up less space. In response to this need, TDK developed the CC-E series of DC-DC converters with the main objective of making converters smaller. The new CC-E Series requires up to 50% less mounting space than earlier TDK products and are the smallest DC-DC converters in the industry."*

In making the converters smaller, TDK employed its latest original technologies and its transformer core ferrite materials to optimize the transformers. TDK has applied for a patent for a new terminal-board connection technique that enables it to reduce the mounting area without changing the positions of the pins.

In addition, by using TDK original high-capacitance, multilayer ceramic capacitors, the use of aluminum electrolyte capacitors and tantalum capacitors can be avoided for enhanced reliability, safety, and environmental performance including RoHS compliance. The new converters also offer excellent performance and functions including a wide operating temperature range, an internal on-off remote control circuit, and a built-in output voltage variable function .

The full lineup includes a total of 136 models including surface mount types for ease of use under a wide range of environments in virtually any application. Moreover, prices are kept low through the use of smaller and lighter-weight components and high manufacturing efficiency. he new CC-E Series will be on display at the TDK booth at the Techno-Frontier 2005 show that will open at the Nippon Convention Center (Makuhari Messe) on April 20.

Main Applications:

Computers, communications devices, and general industrial equipment

Main Features:

Compact and Lightweight

Mounting area is up to 50% less than earlier TDK products. Lighter weight achieved through the adoption of a hollow structure.

Reliable and Safe:

Tantalum capacitors and aluminum electrolyte capacitors are not used, and TDK original high-capacitance, multilayer ceramic capacitors are used in their place. The input circuit protection elements (fuses) are internal.

Environmental Compliance:

A total of seven substances-the six substances covered by the RoHS Directive and polyvinyl chloride are not used at all. Also, halogen-free printing wiring boards are used.

High Performance:

Can operate at temperatures from -40C to +85C. The output voltage can be set with high precision to within +/-3%.

Low Cost:

Prices are 30% lower than those for TDK's earlier products.

Advanced Functions:

Internal remote control circuit, self-restoring output short-circuit protection circuit (standard for the entire series), and a built-in output voltage variable (trim) function.

Extensive Product Lineup:

The total product lineup consists of 136 models with 5 V, 12 V, 24 V, and 48 V types, four output voltages, six output wattages, and DIP/SMD terminal structures.

Production and Sales Plan:

Mass production began in January 2005, and all products from the series will be available by July.

Sample Prices:

1.5 W products : 850 yen

3 W products : 1,000 yen

6 W products : 1,300 yen

10 W products : 1,900 yen

15 W products : 2,800 yen

25 W products : 3,520 yen

* As of April 13, 2005, according to TDK investigations.

About TDK Corporation

TDK Corporation (TSE: 6762) (NYSE: TDK) is a leading global electronics company based in Japan. It was established in 1935 to commercialize "ferrite," a key material in electronics and magnetics. TDK's current product line includes ferrite materials, electronic components and ICs, wireless computer networking products, magnetic heads for HDD, digital recording hardware and advanced digital recording media.

For further information, please visit the TDK Corporation home page at: tdk.co.jp/tetop01/indexhtm

Contact

Nobuyuki Koike
TDK Corporation
Corporate Communications Dept.
Tel: 81-3-5201-7102
E-mail: nb5koike@mb1.tdk.co.jp

More from Cleaning Products & Equipment