DC to DC Power Supplies (Converters)
DC/DC Converters deliver output currents of 80 A.
Press Release Summary: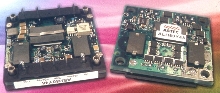 Half-brick DC/DC converters are available in two versions: ALH80 open face and AEH80 with heat sink adapter plate attached. Both offer efficiencies of 87% while delivering 80A, and 88.5% at 60A. Input range is 36 to 75V, and output voltages are 1.2, 1.5, and 1.8 volts. Units feature ±10% output voltage trim adjustment capability; under voltage lockout with hysteresis; and over temperature, over current, and over voltage protection.
---
Original Press Release:
Astec Introduces Industry's First 80 Amp Half Brick DC/DC Converters

Industry Compatible Half Bricks Deliver Output Currents of 80 Amps While Keeping Their Cool!

CARLSBAD, Calif. - December 21, 2001 - Astec Power, a leading merchant supplier of power conversion solutions, today announced the introduction of the industry's first 80 Amp (A) half brick DC/DC converters. This new family of products is available in two models: an open face version, the ALH80, or with a heat sink adapter plate attached, the AEH80. Both models boast operating efficiencies of 87 percent while delivering 80A, and 88.5 percent at 60A, at an ambient temperature of 25 degrees Centigrade (C). The efficiency of the product family is nearly two percent higher than other commercially available 60A half brick converters. And while delivering 80A with 600 Linear Feet per Minute (LFM) of airflow across the unit, the hottest spot on an open frame ALH80 remains a cool 113 degrees C. Both models feature optimized transient responsiveness and excellent stability, even while delivering their power into high capacitance / low Equivalent Series Resistance (ESR) loads, which are becoming increasingly common.

All members of the AEH80 and ALH80 family also feature plus and minus ten percent output voltage "trim" adjustment capability, a positive or negative logic enable input control pin, under voltage lockout with hysteresis-to prevent false starting and stopping at low input voltages, and over temperature, over current and over voltage protection.

With a 36 to 75V input range and outputs voltages of 1.2, 1.5 and 1.8 volts these new converters are ideal for data and telecommunications applications, including wireless transmitters, receivers and base stations. They are also well suited for instrumentation, internetworking devices such as hubs and routers, and ATM equipment. The combination of high current capacity and low output voltages also makes the ALH80 and AEH80 well suited for automated test and measurement equipment, due to the tightly regulated low voltages and high currents demanded by today's newest ICs. The wide operating temperature range of
-40C to +85C assures reliable operation in all but the harshest of environments.

Both the ALH80 and AEH80 were designed using the industry standard half brick pin out, footprint, and package size: 2.3 inches by 2.4 inches. This allows those who already have half-brick converters designed into their PCBs to easily upgrade to these superior performing high efficiency components. This "drop-in" compatibility with the industry standard footprint makes complying with an internal multiple sourcing policy a problem of the past.

Astec Power attributes their success at being the first to produce an 80A half brick converter to their Design Engineering group's masterful integration of the electrical and mechanical aspects of implementing of a phase shifted full bridge topology with symmetrical output stages. The result is the highest current density product, 40A per cubic inch @1.8V out, on the market today. Additionally, Astec Power set out to produce this new converter family in a heat sink-able version, the AEH80, as well as in a low profile open frame version, the ALH80,
making the same ultra high performance available for use in both conductively and convectively cooled implementations.
More from Electrical Equipment & Systems