DC to DC Power Supplies (Converters)
DC/DC Converters deliver 60 Amps output current.
Press Release Summary: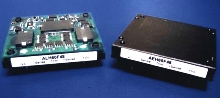 Open frame ALH60 and heat sink adaptable AEH60 are 60 Amp, half-brick converters with efficiencies up to 91% on 3.3 V model and 89% on 1.8 V model. Units include over temperature, over current and over voltage protection, plus under voltage lockout with hysteresis to prevent false starting and stopping at low input voltages. With 36 to 75 V input range and output voltages of 1.2, 1.8, 2.5, and 3.3 V, converters are suitable for data and telecommunications applications.
---
Original Press Release:

Astec Power Introduces High Efficiency 60 Amp Half Brick DC/DC Converter Industry Compatible Half Bricks Deliver 60 Amps Of Output Current At Record Setting Efficiencies!


HPS15 Modules Provide up to 6000 Watts of Bulk Power from a 3U High Rack

CARLSBAD, Calif. - June 5, 2002 - Astec Power, a leading merchant
supplier of power conversion solutions, today introduced their new 60 Amp (A) half brick DC/DC converter. Two versions of this new family are available: the open frame ALH60, and the heat sink adaptable AEH60. Both models boast operating efficiencies as high as 91 percent, on the 3.3V model, and 89 percent, on the 1.8V model, while delivering 60 amps of load current at an ambient operating temperature of 25 degrees Centigrade (°C).

The members of this new family keep their cool, even when delivering high power at elevated temperatures. Astec Power Vice President of DC/DC Engineering, Geoffrey Potter, said, "The hottest spot on an open frame ALH60 remains a cool 117 degrees Centigrade (°C) while it delivers more than 45A at 1.8V out, with 200 Linear Feet per Minute(LFM) of airflow across the unit, even at an ambient air temperature of 70°C." Potter continued, "That's the same output as an industry benchmark, while running a full eight degrees cooler. And that is critical because component life-span and reliability are inversely proportional to their operating temperatures."

Optimized transient responsiveness and excellent stability were the primary design objectives for this new product family. They respond quickly to load transients, yet remain very stable (having more than 50 degrees of phase margin) while delivering their power into high capacitance / low Equivalent Series Resistance (ESR) loads of up to ten thousand micro Farads, at three milliohms.

Each member of the AEH60 and ALH60 family offers the following features to the user: the output voltage of the unit can be adjusted a full plus and minus ten percent; the ENABLE input control pin can be ordered as either positive or negative logic; under voltage lockout with hysteresis-to prevent false starting and stopping at low input voltages; and over temperature, over current and over voltage protection.

With a 36 to 75V input range and output voltages of 1.2, 1.8, 2.5 and 3.3 volts, these new converters are ideal for data and
telecommunications applications, including wireless transmitters,
receivers and base stations. They are also well suited for
instrumentation and internetworking devices, such as hubs and routers. The combination of high current capacity and low output voltages also makes the ALH60 and AEH60 well suited for Automated Test and Measurement (ATM) equipment, due to the tightly regulated low voltages and high currents demanded by today's newest ICs. The wide operating temperature range of -40C to +100C base plate temperature (AEH60) and -40C to +85C ambient air temperature (ALH60) assures reliable operation in all but the harshest of environments.

This new family was designed using the industry standard half brick pin out, footprint, and package size: 2.3 inches by 2.4 inches. This allows those who already have half-brick converters designed into their PCBs to easily upgrade to these superior performing high efficiency components. This "drop-in" compatibility with the industry standard footprint makes complying with an internal multiple sourcing policy a problem of the past. All members of this new family can also be ordered with redundant, in-line output pins, to ensure proper solder
re-flow on PCB's with heavy copper power planes.

Priced from $100 in 1,000 piece quantities, samples of the 3.3V model are available now. For more information contact a local Astec Power representative, which can be found on the Astec Power web site at astecpower.com. Click on the SALES OFFICE button, on the home page, to located the closest Astec Power representative.

About Astec Power
Astec Power is a leading international supplier of power conversion solutions. A wholly owned subsidiary of Emerson (NYSE:EMR), Astec Power is headquartered in Carlsbad, CA. Dedicated to advanced research and development, state of the art design, sophisticated automation and in-process testing, Astec Power produces standard, modified standard, and custom AC/DC and DC/DC power supplies, which range in size from one to 7,500 watts. In order to satisfy and continue to grow its international customer base, Astec Power has operations on three
continents. Through this strategic allocation of its manufacturing resources, Astec Power delivers competitively priced quality products worldwide, in a timely and reliable manner.

About Emerson
St. Louis-based Emerson www.gotoemerson.com is a global leader in bringing technology and engineering together to provide innovative solutions to customers in process control; electronics and telecommunications; industrial automation; heating, ventilation and air conditioning; appliances and tools. Emerson fiscal 2001 sales were $15.5 billion.

More from Agricultural & Farming Products