DC to DC Power Supplies (Converters)
DC/DC Converters accept wide range of dc inputs.
Press Release Summary: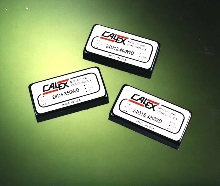 WD Series 10W dual output dc/dc converters have 4:1 dc input range to accommodate 12 V battery, 24Vdc industrial, and 48V telecom power sources. 3 models have input range from 9-36 Vdc, and 3 models have 18-72 Vdc input range. Outputs are ±5, ±12 and ±15 Vdc. All models are fully isolated input to output, have 5-sided shielded case, and offer optional on/off function to conserve power in battery applications. Case dimensions are 1 x 2 x 0.42 in.
---
Original Press Release:
Wide Input Range 10W Dual Output DC/DC Converters

Calex Mfg. Co., Inc. of Concord California announces the WD Series of 1" x 2" 10 Watt dual output DC/DC converters. The WD Series features a wide 4:1 DC input range to easily accomodate 12 V battery, 24VDC industrial and 48V telecom power sources. Three models in the Series have an input range from 9 to 36 Volts DC and the remaining three models in the Series offer an 18 to 72 Volt DC input range. The WD Series offers an optional ON/OFF function, mindful of power conservation for battery applications.

The WD Series is fully isolated input to output. The isolation voltage for the 48 Volt input models is 1544 VDC while the isolation voltage for the 24 Volt nominal input models is 700 VDC. The case operating temperature range is -40 to +85°C with a functional range of -50 to +100°C case temperature. The case thermal impedance is 16 °C/W. The unit incorporates a five sided shielded case and is fully encapsulated for improved thermal performance. Case dimensions are 1" x 2" x 0.42"H.

The WD Series offers outputs of ±5V, +12V and ±15VDC. Output noise for the ±15V output model is 60 mV peak to peak typically with a specified simple add-on circuit available for all models which lowers output noise to less than 10 mV peak to peak. Line and load regulation is typically 0.1%. The output voltage temperature coefficient is typically 50 ppm/°C. The unit offers short circuit protection. All models are backed by Calex's Five Year Warranty.

TO INQUIRY PROCESSING: if this news release will be used in an inquiry-generating format, we would appreciate it if your inquiry listings created by this release were identified with our new item code CDC567. This code will make it possible for us to quickly provide fulfillment literature and best serve your readers (our prospects). All inquiries will be sent a copy of the appropriate literature.

More from Sensors, Monitors & Transducers