DC to DC Power Supplies (Converters)
DC/DC Converter works in low power applications.
Press Release Summary: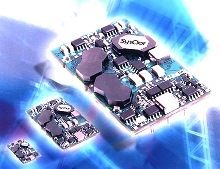 QML series isolated dc/dc converter can deliver up to 15 A total output current at 3.3V and below and up to 75W at 5V and above without need for attached heatsink. It uses synchronous rectification, resulting in no derating of output power up to 70 degrees C. Converter employs industry standard quarter-brick footprint and pin out, measures 1.45 x 2.3 in., and has low profile of 8.5mm. Functions include short circuit, and output OVP.
---
Original Press Release:

SynQor introduces low profile 15 Amp Quarter-brick DC/DC Converter


optimized for efficiency, current/power output, and price

Hudson, Mass - SynQor, the technology leader in dc/dc converters, has introduced a low profile, quarter-brick sized isolated dc/dc converter for lower power applications. The PowerQor(TM) Mega series quarter-brick can deliver up to 15 amps of total output current at 3.3V and below and 75W at 5V and above, without the need for an attached heatsink. The Mega quarter-brick series also offers a very low profile of less than 8.5mm (0.33").

The QML series (Quarter-brick, Mega, Low profile) has a 48V nominal input (35V to 75V range) and meets input voltage transient requirements up to 100V for 100ms. Employing the industry standard quarter-brick footprint and pin out, the unit measures 1.45" x 2.3", (36.8 x 58.4mm) and has a very low profile of only 8.5mm, an emerging requirement for many global markets. The module uses synchronous rectification to achieve very high efficiency, resulting in no derating of output power up to 70 degrees C and 200 LFM airflow. The QML converter series will initially be offered at 3.3Vout with additional output voltages of 1.5V, 1.8V, 2.5V and 5V being released shortly.

SynQor's 15 amp Mega Quarter-brick series provides an economical solution for applications needing lower current levels or less than 75 Watts of output power. The Mega series complements the existing 25 amp Giga series and the 40 amp Tera series to provide the broadest and most scalable product offering for high-efficiency, no-heatsink dc/dc converters. Each converter in the Mega, Giga, Tera family has been optimized for efficiency, current/power output, and price. This "plug and play" product offering allows a designer to test any one of the SynQor quarter-bricks in the prototype stage, and then select the appropriate module based on final requirements for useable power in their system.

"Our new Quarter-brick Mega series expands SynQor's leading product offerings in the quarter-brick market to satisfy just about any power requirement", says Martin F. Schlecht, SynQor CEO. "Customers now have a complete array of scalable industry-standard "bricks" to match their individual needs for performance, price and functionality".

The QML converter includes advanced control and protection features such as on/off control, voltage trim, remote sense, short circuit, output OVP, thermal shutdown and 2000Vdc isolation rating. These features allow advanced functionality, while standard safety certifications allow easy integration into the end user's product.

Production quantities of the 3.3Vout QML Mega quarter-brick converters will be available in February 2002 directly from SynQor and through their network of distributors. The modules are priced at $68.50 in 1,000 unit quantities. Additional output voltages of 1.5, 1.8 and 2.5V and 5V (all rated to 15A) will be available in Q2 2002. For additional information, contact SynQor at 888-567-9596, fax: 508-485-8414, e-mail: sales@synqor.com or visit our web site for detailed datasheets at www.synqor.com.

SynQor is the technology leader in high efficiency dc/dc converters for distributed power architectures. SynQor's products exceed the exacting performance, quality, and reliability requirements of its world-class customers. SynQor serves the converging telecom and datacom markets that are driving Internet growth. Their high-efficiency PowerQor and DualQor families of dc/dc converters are designed to meet the challenging demands of OEM engineers building today's Internet communications hardware. SynQor is a privately owned company headquartered in Hudson, Massachusetts with offices in Dallas, Europe and Hong Kong.

Related