DC to DC Power Supplies (Converters)
DC/DC Converter gives OEMs high power and current densities.
Press Release Summary: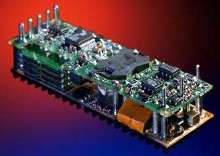 Housed in 1/8-brick package measuring 0.5 in. high, HDE1-75 DC-DC single output converter powers telecommunication networking products. It disperses heat evenly to integrated heat sink and utilizes FET Array design that provides power density of 100 W/in.³ by stacking parallel Mos-fets on multi-level PCBs. With 89% efficiency rating, 75 W HDE family features 36-75 Vdc input with output voltages of 3.3, 2.5, and 1.8 V.
---
Original Press Release:

Ault Single Output DC-DC Converters Give OEMs High Power and Current Densities in 1/8 Brick Design


MINNEAPOLIS -Nov. 18, 2003 - To power telecommunication networking products in a compact package, Ault Incorporated (Nasdaq: Ault) introduces its HDE1-75 DC-DC single output converter in an 1/8-brick package at only 0.5 inches high and in one of the industry's highest power ratings.

Using patent-pending Ault Tronix-Flex(TM) Technology, Ault HDE DC-DC converters allow OEMs to build products that draw higher currents at higher ambient temperatures (25A on a 3.3V unit) and require less airflow without needing to thermally shut units off. HDE DC-DC converters disperse heat evenly to an integrated heat sink, which provides low thermal impedance of all power devices. Reliability increases because power device junction temperatures are 25 percent lower than the maximum allowable temperature.

Ault HDE units feature a FET Array design for high power density (100W per cubic inch; 85°C ambient temperature environments) by stacking parallel Mos-fets (Power Pak) on multi-level printed circuit boards (PCBs) using the height dimension to achieve high-current density. Each fet represents a resistance. The more fets stacked in parallel, the lower the unit resistance. Low resistance means low power loss, giving OEMs high unit efficiency (89% typical).

Traditional DC-DC converters use an FR4 circuit (PCB) with power devices mounted on it, prohibiting OEMs from attaching heat sinks to eliminate heat at high currents and high ambient temperatures with limited airflow.

The 75-watt HDE family features 36-75 VDC input with output voltages of 3.3, 2.5 and 1.8 volts. The HDE series DC-DC converters are available for $67.50 in quantities of 1,000. Ault engineers designed the HDE series in accordance with EN60950, CAN/CSA-22.2 No. 60950-00, and UL60950 requirements.

Ault is one of the largest independent manufacturers of power conversion products based in North America. The company is the leading supplier to OEMs in the datacom/telecom convergence equipment, wire line and wireless communications equipment, medical devices, printing/scanning equipment and industrial equipment segments of the electronics marketplace.

For more information, contact Ault Inc., 7105 Northland Terrace, Minneapolis, Minn., 55428. Tel: 763.592.1900. Fax: 763.592.1911. Email: info@aultinc.com, Web: http://www.aultinc.com/.

More from Optics & Photonics