DC Brush Motor reaches speeds of 13,000 rpm.
Press Release Summary: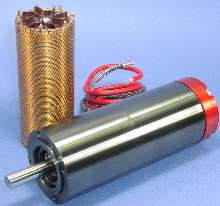 Thermally rated for operation at up to 130°C, TG3300-63 Series utilizes electromotive coil technology with multiple precision-machined copper sheets that eliminate eddy currents and hysteresis. Product delivers max continuous torque of 85 oz-in. at 7,850 rpm using input voltage of 24 Vdc and 23 A to motor. Voltage operating range is 0-36 Vdc, armature inductance measures 4 µH, and terminal resistance is 80 milliohms @ 25°C. Housing measures 2.0 in. OD x 5.442 in. long.
---
Original Press Release:

ThinGap Motor Technologies Announces: Ruggedized TG3300-63 Brush Motor


Patented Electromotive Coil Technology Ruggedized for In-the-Field Military, Aerospace, Industrial and Construction Applications

VENTURA, CALIFORNIA - AUGUST 20, 2003 - ThinGap Motor Technologies, the leader in high power density DC motors, today has announced the new TG3300-63 Series Brush DC motor with 495 watts of continuous shaft power, peak torque of 425 oz-in., maximum speed of 13,000 RPM and efficiency up to 90% in a ruggedized package. Utilizing ThinGap's patented high-efficiency electromotive coil technology, the TG3300-63 delivers exceptional power density, high torque to weight ratios and flat torque output across its speed range, which can eliminate the need for a gearbox in many applications.

"Originally developed for a customer where the limitations of conventional motors reduced the effectiveness of their product, the robust, high power density TG3300-63 Series brush motors are ideal for in-the-field battery-powered applications, including medical, military, construction and aerospace," said Rick Noling, CEO, ThinGap Motor Technologies. "The combination of high power density and ruggedized construction increases portability by enabling more applications to utilize battery-power, which creates value for our customers by providing them with new market and product opportunities."

The ThinGap electromotive coil technology uses multiple precision-machined copper sheets to replace the magnet wire and iron core of conventional motors. This innovative, patented design eliminates eddy currents and hysteresis associated with the iron core improving efficiency, controllability, and power density. The low inertia armature allows for high acceleration and fast response over a large torque range. I2R losses are minimized by the ultra low resistance coil, which also contributes to high efficiency. The thin wall of the armature coil allows for a narrow magnetic gap and full utilization of the magnetic circuit enhancing shaft power.

The TG3300-63 delivers maximum continuous torque of 85 ounce-inches at 7,850 RPM rated speed using an input voltage of 24 VDC and 23 amps to the motor. The motor's voltage operating range is 0-36 VDC. Armature inductance measures 4 microhenries and terminal resistance is 80 milli-ohms @ 25°C. The TG3300-63 series is thermally rated for high performance operation at up to 130°C. The motor housing measures 2.000" OD by 5.442" long. A PDF data sheet can be downloaded at: ThinGap.com/TG3300.

For more information, contact ThinGap Motor Technologies, 2140 Eastman Ave., #112, Ventura, California 93003, Tel: (805) 477-9741, Fax: (805) 477-7535, www.ThinGap.com/.

More from Architectural & Civil Engineering Products