DC/AC Inverters suit CCFL-backlit LCD applications.
Press Release Summary: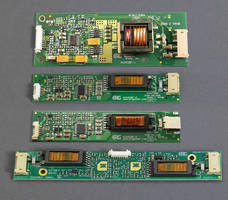 Available in single, dual, and multi-lamp configurations, Smart Force(TM) SFW Series inverters can be used in 5.7-19 in. LCDs used for industrial/medical and general applications. They feature 6 mm profile, onboard lamp current regulation, strike voltages to 2,400 Vrms, and operating temperature range of -20 to 85ºC. RoHS compliant units also offer onboard dimming, open lamp detection, and are compatible with all OEM LCDs.
---
Original Press Release:

New SFW Series CCFL Inverters from ERG are Cost Competitive with Offshore Models



New Smart Force(TM) SFW Series will be at SID 2009

Endicott, NY, May 21, 2009 - The new Smart Force(TM) SFW Series of DC-AC inverters from LCD backlight power specialist Endicott Research Group (ERG) represents the first attempt by a U.S. company to offer a family of generic inverters, economically priced, for universal use across a broad range of CCFL-backlit LCD applications.

Designed to be sold through ERG's extensive distribution network, the SFW Series consists of only 12 part numbers that cover a wide range of applications for ease of selection. Pricing is competitive with key offshore competitors, according to the company, while functionality is superior, including wide input voltages and onboard dimming.

"ERG has been manufacturing inverters since 1979 and brings the industry's richest base of experience and know-how to bear on the new SFW Series, which is designed to compete with offshore manufacturers' models in the "generic" marketplace, where one inverter can be specified for a number of different applications," said Graham Upton, Vice President, Engineering & New Business Development at ERG.

SFW Series inverters are available in single-, dual, and multi-lamp configurations and can be used in LCDs 5.7" to 19" diagonal in size for a wide variety of industrial, medical and other applications.

SFW Inverter Features include:

o Low Profile - to < 6 mm High

o Onboard Lamp Current Regulation

o Strike Voltages to 2400 Vrms

o Operating Temperature Range of -20º to 85º C.

o High Efficiency

o Open Lamp Detection

o Onboard Dimming

o RoHS Compliance

o Compatible with Virtually All OEM LCDs

The SFW family is an ideal inverter series for distributors to offer, added Upton. It complements ERG's established custom inverter products, and production quantities are readily available.

Pricing depends on part number and quantity of SFW Series inverter. Typical distributor pricing for an SFWA160JF single-lamp inverter with 6.0 mArms output current and JST output connector SM02(8.0) is under $10.00 in production quantities.

For more information on SFW Series part numbers, distributors and available pricing, visit ERG at Booth 470 during SID 2009, San Antonio, Texas, June 2-5, or contact

Endicott Research Group (ERG), Inc.,

2601 Wayne St.,

Endicott,

NY 13760,

USA.

Tel: 607-754-9187;

(toll-free: 800-215-5866);

Fax: 607-754-9255;

E-mail: CCFL@ergpower.com.

Web: www.ergpower.com

About Endicott Research Group:

ERG, the specialist in power conversion solutions has been matching power solutions to LCD backlights since 1979. The company's range of DC-AC inverters for CCFL-and EL-backlit LCDs is the largest in the world. ERG's experience and technical expertise as a provider of inverter solutions has recently been extended to matching LED drivers and replacement rails to today's LED-backlit LCDs.

More from Sensors, Monitors & Transducers