Dawes Rigging & Crane Rental Moves Historic Water Tower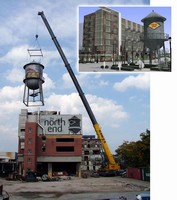 November 7, 2007 - In quite literally a "landmark move," Dawes Rigging & Crane Rental removed the Pfister and Vogel water tower, weighing 42,000 lbs., from an old tannery building near the city's park east corridor and placed it in its new location as a symbolic landmark of the new North End development. The North End is a $175 million mixed-use residential development that will include new condos, apartments, stores, and river walks. Dawes used a Grove GMK7550 all-terrain hydraulic crane with a 179-ft. main boom, 220,400 lb. counterweight, and 80-ft. radius to lift the water tower, an event that received local television coverage.

The removal of the water tower was entrusted to Dawes because of their history in Milwaukee as one of the area's largest specialized crane and rental companies in the business since 1947. The water tower is one of several historic artifacts that will be preserved from the original tannery building and incorporated into the new North End development, which is expected to attract nearly 1,000 new residents to downtown Milwaukee and to unite several historic neighborhoods.

Dawes offers manned and bare crane rental, C.C.O. certified operators, lift planning, aerial and forklift rental, transport and heavy hauling, and 24/7 service.

Dawes Rigging & Crane Rental, Inc., a member of the ALL Erection & Crane Rental Corp. family of companies, has been based in Wisconsin since 1947. Dawes is a certified dealer of new equipment for Broderson, Elliott, Genie, Gradall, JLG, Link-Belt, Lull, Peiner, Potain, SkyJack, Sky Trak, Snorkel, Shuttlelift, and Terex for Wisconsin. For further information please contact Dawes' Milwaukee branch office at (800) 236-5335 or (414) 453-5335; the office is located at 805 S. 72nd Street, Milwaukee, WI 53214.

More from Machinery & Machining Tools