dataTaker DT80W Intelligent Datalogger comes with a LCD display.
Press Release Summary: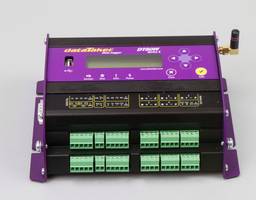 dataTaker DT80W Intelligent Datalogger features Ethernet communications and an internal battery. Unit offers up to 15 Analog (± 50V) sensor inputs and 12 flexible digital terminals. Product is equipped with 2 serial smart sensor ports and is suitable for integrated WiFi and GSM cellular modem applications. dataTaker DT80W comes with programmable analog output and an integrated WiFi and enables user to automatically transfer data through email or FTP. Data logger is integrated with web and FTP client/server.
---
Original Press Release:
Log It All With Datataker!
Truly Flexible Measurement with Integrated WiFi
Bestselling manufacturer dataTaker and distributor CAS DataLoggers have partnered to announce the new dataTaker DT80W Intelligent Datalogger with Integrated WiFi. These next-generation solutions feature Ethernet communications, LCD display, an internal battery, and offer communication options for integrated WiFi and GSM cellular modem!
At CAS DataLoggers we offer dataTaker systems along with FREE on-call technical support. For configuration and pricing, talk to an experienced Applications Specialist at (800) 956-4437 or visit our website at www.dataloggerinc.com.
DataTaker DT80W Features:
Dual-Channel Isolation Technology
Up to 15 Analog (± 50V) sensor inputs
Expandable to 300 analog inputs
12 flexible digital terminals
2 Serial 'Smart Sensor' ports
SDI-12 (multiple networks)
Programmable Analog Output
Integrated WiFi
Automatic data transfer via email or FTP
Sends alarms via SMS or email
Modbus for SCADA connection
USB memory for easy data and program transfer
Web & FTP client/server
Monitor any Value you Need!
Datataker's flexible Universal inputs allow users to configure the analog inputs to accept virtually any type of sensor input—thermocouples, RTDs, DC voltage, 4-20 mA signals, strain gage bridges, and more.
Series 4 dataTaker dataloggers allow users to connect a variety of sensors to their analog channels, counter inputs, and two serial sensor inputs. Temperature, voltage, current, resistance, frequency, digital, and serial data can all be scaled and logged.
Set up sampling, logging, alarm and control tasks to suit your own requirements while interfaces for smart sensors, GPS and other intelligent devices expand the dataTaker DT80W's flexibility. All this functionality is enclosed in an industrial-strength, ruggedized design.
Now with Integrated WiFi!
With wireless access, there's no need to have to travel out to the logger to retrieve stored data. Send a program, view and download the data, or even modify your settings using a nearby PC or Tablet wirelessly either as a Master (Access Point mode) or Slave (Client).
Automatic Data Delivery:
Using Client mode, the dataTaker can access the local router, and if the router has internet access, it can utilize the DT80W's automatic data delivery features to schedule your data to be automatically emailed to your inbox every day, week, month or other time interval.
More sophisticated systems can make use of the dataTaker's automatic data delivery features to send logged data to an FTP server.
Browser-Based Solution:
DataTaker dEX comes pre-installed on every logger in the dataTaker DT80 range. The software loads in your web browser so there's no need to install any applications on your computer. The internal web server allows you to configure your data logger, view data in real time, and retrieve your historical data for analysis.
Accessible by WiFi, Ethernet or USB connection, dEX runs directly from your web browser and can be accessed either locally or remotely. You can view data anywhere a TCP/IP connection is available, including worldwide over the Internet.
Built-in software - no applications to install
Accessible by WiFi, Ethernet, and USB
Intuitive graphical interface
Access live and historical data
View data as charts, mimics and tables
Desktop dEX:
In conjunction with the Series 4 launch, dataTaker also offers an improved version of its Desktop dEX app for Windows, Android and iOS.
Features:
Windows Standalone Application
Offline configuration editor
Zoom Trend chart and bar charts
Print Trend chart
Network Logger overview
To learn more about the new dataTaker DT80W Intelligent Datalogger with Integrated WiFi, or the full line of dataTaker Series 4 Dataloggers, contact a CAS DataLoggers Application Specialist at (800) 956-4437 or visit our website at www.DataLoggerInc.com.
More from Software