Datacenter Design Software provides 3D virtual modeling.
Press Release Summary: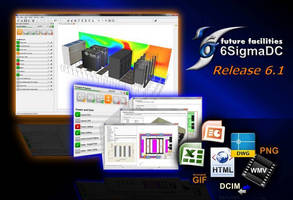 Datacenter design and operations software, 6SigmaDC release 6.1, includes toolset for creating virtual models of facilities, which can be used to assess design proposals as well as layout and load changes prior to physical implementation. Software features interactive task guide that lets users create models, perform analyses, and generate reports. Allowing import and export of data, product can also present 3D analysis of cooling effectiveness and temperature range distribution.
---
Original Press Release:
Future Facilities Announces Update of 6SigmaDC Software for Data Center Design and Analysis
An interactive Task Guide, context sensitive help, tutorials and wizards are just some of the new features helping to make the new release of 6SigmaDC more intuitive and easier to use for data center design and operations. San Jose, CA, USA - Future Facilities has introduced 6SigmaDC release 6.1 of its popular data center design and operations software. The new release provides an enhanced toolset for the virtual modelling of electronic components, systems and data centers, enabling cooling challenges to be addressed right throughout the supply chain. A full list of new features is available from www.futurefacilities.com. Using 6SigmaDC, data center designers can construct a holistic and mathematically accurate 3D model of any facility at any point in its lifecycle. The model, or Virtual Facility (VF), can then be used to assess initial design proposals as well as layout and load changes prior to physical implementation; saving time and avoiding risk and cost. Sherman Ikemoto, General Manager, Future Facilities Inc., said, "The new and improved tools and objects in 6SigmaDC release 6.1 make model creation more intuitive, quicker and easier. A major step forward is the addition of an interactive Task Guide which improves model quality control and provides a step-by-step approach to model build, solution and analysis." The interactive Task Guide is designed to eliminate the need for software training and assist users to create their own Virtual Facilities as well as perform analyses and generate reports. It comprises six Main Tasks: Architecture, Technical Space, Power and Data, Cooling, Analysis and Reporting. Wizards, detailed guidance, tutorials and context sensitive help aid the user throughout the process, tracking progress and recommending the next logical modelling steps. The new software release incorporates increased import and export options, enabling easier integration and data sharing between a wide range of third party applications including Aperture and Asset Point asset management applications, RF Code and Synapsense monitoring solutions and, most recently, nlyte data center infrastructure management (DCIM) software. Room Scale enhancements include Floor Grille Streamline Plot and ACU Streamlines Plot which are automatically added to provide a graphical analysis of the effectiveness of the cooling. Other graphic enhancements include Cloud Plot, which visualises temperature range distribution in 3D in the room, Vent Temperature Plot, Inflow Temperature Plot and Equipment Temperature Plot. 6SigmaDC release 6.1 ships with Future Facilities' recently introduced 6SigmaRoomLite, developed for those customers who require a less feature-rich and less complex application to provide a more immediate analysis of data centre space. 6SigmaRoomLite also incorporates the new Task Guide so that even those unfamiliar with Computational Fluid Dynamics software and without specialised engineering knowledge can make effective use of the modelling applications. Sherman Ikemoto said "The Virtual Facility provides an ideal way for all data center stakeholders - IT and facilities - to share ideas, plans and proposals. Not only does it allow one to evaluate space, power, cooling and network decisions, it also provides a great communication methodology between the interested parties throughout the data center lifecycle." To find out more about 6SigmaDC release 6.1 and how it can help increase data center availability and efficiency please call Future Facilities on 408 436 7701 or visit www.futurefacilities.com. About Future Facilities
Future Facilities (http://www.futurefacilities.com) is a leading provider of powerful design, optimization and management software for mission critical facilities and data centres. The company's solutions are applied to ensure all capacity, efficiency and reliability criteria are met throughout all phases of the facility lifecycle.
More from Software