Data and Database Management Software
Database Software helps optimize IMM processes.
Press Release Summary: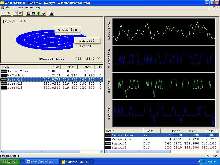 Residing on servers operating on Windows 2000, NT, or XP, Mold 24i software utilizes Intranet/Internet for remote monitoring, data collection, and process analysis of up to 128 injection molding machines (IMMs). Product serves as master database for networked IMMs and provides charting capabilities to optimize process repeatability. Quality Radar uses 4-quadrant radar screen graphic that shows parameter relationships and variance to simplify troubleshooting.
---
Original Press Release:
New 24i Database Software Allows Remote Process Optimization,Tracking and Reporting for up to 128 Roboshot/ACT/Other Makes of Injection Molding Machines
Server-based software utilizes Intranet/Internet for remote monitoring. Features include user-friendly Quality Radar graphics to allow visual quality "centering" of process variables. March 2003 - Milacron brings best-in-class remote data collection and process analysis to all-electric molders with its new Mold 24i database software option for use with Roboshot/ACT and other makes of injection molding machines (IMM), including new Roboshot iA and SiB models with artificial intelligence control. Mold 24i takes process data capture to a new level, allowing remote monitoring of up to 128 Roboshot IMMs via Intranet or Internet. It serves as a master database for the networked IMMs and provides extensive analysis and charting capabilities to optimize process repeatability. Among its many features is a process optimizer called Quality Radar that uses a four-quadrant radar screen graphic that shows parameter relationships and variance to simplify troubleshooting and increase repeatability. The software can also demonstrate quality compliance to customers or government agencies like the FDA, as is often required of medical part molders. Mold 24i resides on a server operating on Windows 2000, NT or XP and connects to Roboshot controls via high-speed Ethernet-based LAN (a converter is available for machines with RS-232 communication protocol). Mold 24i can be accessed from client terminals located anywhere within a plant, as well as anywhere in the world, with proper application software and an Internet connection. Mold 24i offers a wealth of process analysis/reporting capabilities such as: o Detailed analysis of individual machine cycles o Customizable data table output, along with various trend, histogram, bar charts o Quick retrieval of machine set-up parameters from previous cycle history o Advanced Quality Radar data analysis for process optimization o Alarm history log and alarm analysis reporting o ISO 9000 material/mold lot tracking o Remote mold file upload/download o Simple data importing into spreadsheet software o Pressure curve monitoring with 2D or 3D viewing o Compressed database back-up with viewing capability Mold 24i uses a variety of user-friendly screen views to access data and generate reports, including plant layout/process monitor, Quality Radar, alarm log and molding parameter change log. Plant layout view allows users to check at a glance the operating status of all machines linked to Mold 24i, providing machine name, machine state, file name, cycle time, production number, percentage completion, estimated end time, etc. The screen uses icons to represent each machine and can be customized to match plant layout. It allows easy checking of machine running ratio trend and gives machine status report per shift, date, week and month. The mold/process monitoring screen provides a snapshot of each cycle, allowing instant call-up of numerous parameters such as time, pressure, temperature, position, etc. Molding result data can be collected per shift, day or mold replacement, and can be outputted in simple data table form, or histogram or trend charts. Ideal for FDA and QS, retrieval of the machine running conditions is possible by selecting a specific target cycle and requesting the Mold 24i recreate the machine settings. The Quality Radar feature analyzes the mold/process monitoring data to take the guesswork out of identifying machine settings that have the greatest effect on process repeatability. The easy-to-understand Quality Radar screen displays the data analysis results by locating key process parameters on a four-quadrant "radar" screen. The relationships between process variables and their degree of variance (distance from axis origins) is shown by their location on the chart. Parameters located close to the radar screen's center crosshairs are "in control" for that particular molding process. Two data sets can be charted and compared to quickly reveal repeatability improvement or degradation after parameter changes. Alarm log and analysis screens can display daily, weekly, or monthly reports based on machine, shift, time and type of alarm, and can track how often a particular alarm is triggered on a machine. Mold 24i allows viewing of alarm history, parameter change log and molding condition for an individual cycle of any machine. Optional software is available that allows Mold 24i to notify operators via email when an alarm occurs and email production information. Mold 24i facilitates ISO quality checks during production by allowing batch part runs for inspection or designating a mold trial run. Operators can execute this directly at the machine's control. A full report for mold trial runs can automatically be generated. The data collected from the quality control part run is kept separate from normal production run data. Mold 24i allows for easy display customization in a variety of chart and data table configurations to meet quality program requirements. An optional material evaluation feature turns the Roboshot IMM into a viscometer without need for separate equipment, and creates a database on resins and their properties. Mold 24i can perform tests which vary injection velocities and temperatures, then analyze test data to determine the optimal settings for a given material batch. This allows operators to compare new or regrind material with a previously tested batch and determine parameter changes needed to obtain the same viscosity curve and flow characteristics. This option can also be used to determine optimum material drying time to save time and cost. To see the full range of Roboshot and other Milacron plastics processing technologies, visit plastics.milacron.com. Sales inquiries from the NAFTA region should be directed to: Veronica Storms Milacron Marketing Company 4165 Halfacre Rd. Batavia, OH 45103 Tel: 513.536.2352 Fax: 513.536.2624 In Brasil, direct inquiries to: Mr. Hugo Korkes Milacron Equipamentos Plasticos Ltda. Al. dos Jurupis, 452 - 6o Andar - Bloco A - Moema 04088-001 - Sao Paulo - SP - Brasil Tel.: (++5511) 5051-1838 - Ext. 102 Fax.: (++5511) 5055-1905 Cel.: (++5511) 9618-4066 hugokorkes@milacronbrasil.com.br In the Caribbean Central and South America, direct inquiries to: Michael Ferlic Milacron Marketing Company 7752 NW 74th Ave., Miami, FL 33166 USA Tel: 305-887-6920, extension 131. Fax: 305-883-8254 Sales inquiries in China contact - Milacron Shenzhen Representative Office Room 27E2, Times Plaza. No. 1 Taizi Road Shekou, Shenzhen 518067 P.R. China Tel 86-755-2686-3879 Fax 86-755-2686-3876
More from Machinery & Machining Tools