Data Transfer Unit reports status of Plug & Tighten tool.
Press Release Summary: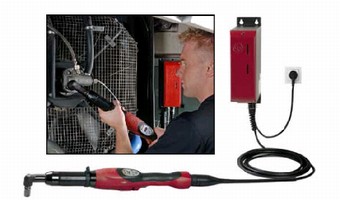 Complementing Plug & Tighten industrial tightening tool, Data Transfer Unit reports acceptable and rejected torque and angle data. Batch counting function assures all completed fastenings are counted and reported. Any model Plug & Tighten is automatically recognized when plugged into DTU which, in turn, plugs into power receptacle. Featuring metal housing and molded plastic cover, DTU offers IP42 protection and is suitable for industrial environments.
---
Original Press Release:

Data Transfer Unit Reports Tightening Status of CP's Innovative Plug & Tighten Tool



Pluggin' toward quality

DTU Gives CP's "Plug & Tighten" Electric Tool Torque/Angle Reporting and In-Plant Control

CP's quick-to-teach, easy-to-use DC electric Plug & Tighten industrial tightening tool can now report acceptable and rejected torque and angle data via a data transfer unit, or DTU.

Any model Plug & Tighten is automatically recognized when plugged into a DTU which, in turn, plugs into a power receptacle. Minimal programming is required. The DTU enhances the tool capability by providing:
o OK/NOK tightening results to ensure a superb quality process;
o Batch counting to assure all completed fastenings are counted and reported - so all fastenings that need to be tightened ARE tightened;
o External control within automated tightening/ assembly systems via a programmable logic controller (PLC).

Potential Applications
The DTU complements the Plug & Tighten tool by detecting missing fastenings, identifying an operator's assembly failures, and permitting PLC control of the tool and "Poka Yoke" error proofing when installed on an automated assembly line.
The combination Plug & Tighten tool with a DTU is appropriate in the following scenarios:
o To eliminate non-critical but annoying squeaks and rattles that result when screws are not tightened to the recommended torque, such as on a vehicle instrument panel or sunroof;
o To prevent the operator from applying the wrong torque to certain joints or from missing some fastenings altogether, especially where the results can affect product functionality, such as pump assembly or engine mounts;
o Whenever safety is critical, and error traceability and storage of results are required, such as on wheels, brakes and grounding connections.
o The Plug & Tighten with DTU can used on applications in the land transportation, aerospace, appliance and general industrial markets.

Options for Error Proofing
No setup is required. Just plug the Plug & Tighten into the DTU, and plug the DTU into the power outlet to get OK/NOK outputs.
1. Audible alert - when selected, 3 beeps follow each batch cycle that is OK.
2. Action for NOK - when selected, the tool is disabled if the result is a NOK; a rejection acknowledgment is needed to re-enable the tool.
3. Action for OK batch - when selected, the tools is disabled when the batch cycle is OK; the system must be reset to re-enable.
4. Trigger disable - when selected, the tool trigger is disabled; an external start cycle is required to start the tool.
5. Number of screws per batch - a value is selected from a field.
6. Tool Enable - tool is disabled without an input signal.

Input (from PLC)
o External start cycle
o External reverse
o Reset
o Reverse validation
o Reject acknowledgement
o Spindle validation
Output Signals
o LEDs signal the following:
o Process OK - Green
o Process Not OK (NOK) - Red
o Process Not OK (NOK) - Yellow
o Batch count OK
o Ready
o Maintenance required
o Reverse
o In-cycle

Competitive Comparisons
The Plug & Tighten tool used with a DTU is has a number of advantages over pneumatic tools with control/monitoring systems, impulse tools with monitoring systems, as well as torque transducerized and clutch controlled battery tools with reporting.

Plug & Tighten / DTU Advantages
o Includes angle monitoring for more accuracy
o Has two speeds to more closely match the joint type
o Operates up to 50% faster
o Easy to set up
o Clean, quiet and requires little maintenance
o Has a better life cycle cost

Compared to competitive products
o Pneumatic tools can be less accurate because the torque is calculated via air pressure.
o While impulse tools bring lower weight and a greater torque range, they are less accurate, emit higher noise and vibration, and are more time consuming to maintain and calibrate. They also require air and electricity.
o Torque transducerized battery tools are less ergonomic and heavy due to the battery and provide limited usage before recharging is needed. They are typically lower in speed and torque, etc.
o Clutch controlled battery tools are limited to facilities where Bluetooth reporting is allowed.

DTU Installation
The DTU has a durable metal housing and molded plastic cover suitable for an industrial environment. Downward routing of cables makes wall mounting easy. The DTU also offers IP 42 protection.

Dimensions and weight
Height of facade: 9.84 in / 250 mm
Height including mounting flanges: 13 in / 330 mm
Width: 3.54 in / 90 mm
Depth: 11.8 in
Weight: 6.6 lb / 3 kg
Power
Power consumption: 44 W
Power supply: 110/230V, 50-60 Hz
Integrated ground fault interrupter (GFI)
Two fuses

Ordering Information
The part number for the DTU is 615 936 045 0.

CP designs, manufactures and supplies the complete solution with electric and pneumatic industrial and vehicle service assembly tools and systems targeted toward land transportation (car, truck, bus and components) aerospace, appliance, general industry and the vehicle service markets. CP is dedicated to continually providing the best in design, ergonomics, quality and performance - the ultimate tool solutions for high productivity, cost efficiency and value. To learn more, phone toll-free 888-298-2905 in Novi, MI or visit Chicago Pneumatic on the web at www.cp.com.

More from Electrical Equipment & Systems