Data Transfer Modules work with Profibus, Interbus, CANbus.
Press Release Summary: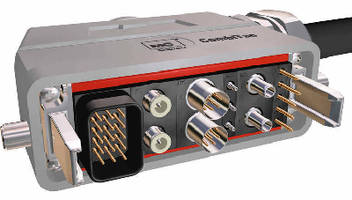 Part of modular CombiTac connector system, contact carriers are available for Ethernet cabling and field bus systems. CAT 5 IEEE 802.3 Ethernet types have 2 RJ45 sockets connected to 8-pole, gold-plated plugs or sockets on opposite side. CT-NET bus types, rated CAT 6, can hold one or two 8-pole, male/female connectors. Contacts are gold-plated and have Multilam® torsion spring elements. Termination is via crimping for flexible copper conductors with cross-sections from 0.25-0.75 mm².
---
Original Press Release:

Data Transfer Modules Add to Versatility of Multi-Contact Connector System



Multi-Contact's modular CombiTac connector system has been expanded to include two types of data transfer connections. Contact carriers are now available for Ethernet cabling and for field bus systems such as Profibus, Interbus and CANbus.

These data options join the wide range of connector combinations offered by the compact and versatile CombiTac system, which includes power, coaxial, fibre optics and even air and cooling fluids.

The CAT 5 IEEE 802.3 Ethernet contact carriers have two RJ45 sockets, connected to 8-pole gold-plated plugs or sockets on the opposite side.

The CT-NET bus contact carriers, rated at CAT 6, can hold one or two 8-pole male or female connectors. The Multi-Contact contacts are gold plated, and have Multilam(R) torsion spring elements for improved reliability. Termination is by crimping for flexible copper conductors with cross-sections from 0.25 mm2 to 0.75 mm2.

"Unlike many other connector systems, CombiTac is designed to withstand a high number of mating cycles," said Multi-Contact UK managing director Selwyn Corns.

All the contact carriers are made in plastic and all sockets provide continuous shielding. The operating temperature range is -40degC to +90degC.

Available with IP65 protection, the connector system has a wide range of applications in data acquisition, transmission and control systems in sectors such as rail and defence.

Notes

Milton Keynes based Multi-Contact (UK) Ltd is a wholly owned subsidiary of Multi-Contact AG Basel, the leading Swiss manufacturer of precision electrical and electronic connectors owned by Stäubli AG.

Multi-Contact develops and manufactures state of the art connector technologies ranging from miniature electronic PCB connectors through to large electrical power connectors, including standard and custom designed solutions.

Applications include power generation and distribution, signal and data processing, and pneumatic and fluid distribution for a wide range of automation, process control, traction and computing requirements.

Multi-Contact connectors are used in medical and health monitoring instruments, test and measurement instruments, telecommunication installations, supercomputers, robotic docking systems, high speed trains, photovoltaic systems and many other products.

Other enquiries

Linda Kelly
Multi-Contact Ltd
Tel: +44 (0) 1908 265544
Fax: +44 (0) 1908 262080
Email: [email protected]
Web: www.multi-contact.com

Multi-Contact Ltd, 3 Presley Way, Crownhill, Milton Keynes, Buckinghamshire, MK8 OES, UK