Data Storage Unit provides up to 8 TB capacity for PXIe systems.
Press Release Summary: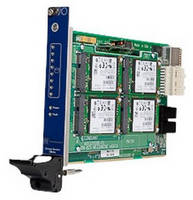 Featuring mSATA module technology, Big River™ DM 8M-3U delivers up to 8 TB of solid-state storage for PXIe-based systems in test and measurement industry. Storage unit, designed for use in single PXIe slot in 3U chassis, has on-board PCIe SATA controller and will accommodate 2, 4, 6, or 8 mSATA 3.0 modules. Also, product integrates with OS to provide flexible storage options in software RAID configurations.
---
Original Press Release:

Conduant Delivers up to 8 TB Capacity for PXI Express Systems with mSATA Modules



Packs 8TB in single slot (4HP)



LONGMONT, Colorado – Conduant Corporation, a leader in long-duration high-speed recording and playback systems, today introduced the Big River™ DM-8M-3U storage unit delivering up to 8 terabytes of solid state storage for PXI Express (PXIe) based systems. Featuring the latest mSATA module technology, the DM-8M-3U provides abundant, high capacity storage resources in a very small enclosure. It will serve the test and measurement industry where chassis real estate on the workbench is at a premium.



The DM-8M-3U storage unit is designed for use in a single PXIe slot in a 3U chassis. It features an on-board PCIe SATA controller and is compatible with major operating systems. It will accommodate 2,4,6,or 8 mSATA 3.0 modules. Additionally, the DM-8M-3U integrates with the operating system to provide flexible storage options in software RAID configurations.



"As Conduant continues to expand its family of storage products," said founder and CEO, Ken Owens, "we are focused on producing a wide range of storage options including the latest in solid state technology. We now offer extremely dense storage in a single slot, while at the same time providing the fastest read/write performance possible. We have leveraged mSATA potential to its fullest."



Pricing and Availability

Pricing for the DM 8M-3U starts at $3057.00. Please call for availability.



About Conduant

Conduant Corporation (http://www.conduant.com), founded in 1996, develops the StreamStor® family of PCI-Express disk controllers for high-speed recording and playback of digital data. In addition, Conduant builds high performance PCI Express components and subsystems. Solutions are available in Windows and Linux environments and are used in scientific research, military, aerospace and instrumentation applications. Conduant's products are guaranteed and will sustain data rates up to and beyond 3GB/s. Conduant is located in Longmont, Colorado. For more information, call (303) 485-2721 or visit www.conduant.com



Streamstor® is a registered trademark of Conduant Corporation. The Big River DM-8M-3U is a trademark of Conduant Corporation. All other trademarks are properties of their respective owners.



Lynott & Associates PR

Yvonne Lynott

303-460-8080 

yvonne@lynottpr.com

More from HVAC