Data Storage System features cableless, modular design.
Press Release Summary: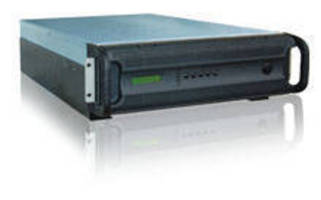 Supporting 8 different controller modules, DS-1600 Series provides 16 hot-swappable hard disk drives, as well as SAS Expand, SATA Expand, SAS to JBOD, Fiber to SAS, iSCSI to SAS, and iSCSI to SATA interfaces. LCD displays real-time system temperature, fan speed, and power voltage status, while dual power supply module balances workload with redundant function. Applications include video editing, medical imaging, DVR storage, file servers, and remote disaster recovery storage.
---
Original Press Release:

NORCO DS-600 Series Modular, Intelligent, Cableless Storage System



Shenzhen NORCO Intelligent Technology Co., Ltd, a leading manufacturer of embedded computer and server storage products, today announces the latest 16-bays storage production DS-1600 series; it is cableless, ultra-Intelligent and modular storage system. DS-1600 series support different 8 units' controller modules for different applications. The Model DS-1660 made its debut to general public at CES 2010 earlier this year and it also shines bright at CeBIT 2010.

DS-1600 series controller is LIB-16XX series. It totally has 8 different configurations of controller modules. It can provides the customers with SAS Expand, SATA Expand, SAS to JBOD, Fiber to SAS, iSCSI to SAS and iSCSI to SATA etc.


Model No.    Interface   Host interface     Throughput

DS-1610    USB to SATA       1xUSB-B           480Mb/S

DS-1620    SAS to SATA       1xSFF8088        1200MB/S

DS-1640   SAS to SAS/SATA    4xSFF8088        4800MB/S

DS-1660   SAS to SAS/SATA    2xSFF8088        2400MB/S

DS-1671   iSCSI to SAS/SATA  4xiSCSI GbE       400MB/S

DS-1672   iSCSI to SAS/SATA  2xiSCSI GbE       200MB/S

DS-1673   Fiber to SAS/SATA  2xFiber           800MB/S

DS-1674   SAS to SAS/SATA      2xSAS        1GB/S (max)

Product Highlight

The front panel has a non self-lock power switch. The LCD displays real-time system temperature, fan speed and power voltage status. Coordinating with different controller, DS-1600 can set the IP/RAID and RAID restore. The dual power supply module is designed to balance the workload with redundant function.

Applications:

- Large-scale database application

- Data-intensive application

- Video editing

- Medical imaging

- High-bandwidth storage solutions

- DVR storage

- Data centralized storage

- File servers

- Remote disaster recovery storage

- External directly storage solutions

Key Advantages:

- Designed with smart disk cabinets, controller modules, Cableless and Rackmount

- Massive Storage: 16 hot swappable HDD per unit, DS-1660 can expand up to 16units DS-1660, which means it can expand 256 hard disks

- Support Real-time Detection and Alarm

- Achieves intelligent temperature control. It can adjust cooling system for different temperature and bring long life

- LCM management

- Easy-to-maintain and simple in its operation, customer don't need professional engineer to manage it

More from Electrical Equipment & Systems