Data Loggers monitor bearing temperature to prevent failure.
Press Release Summary: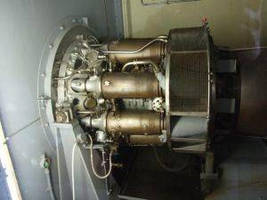 Providing automated wireless temperature monitoring for plants and factories, T&D RTR-500 Series can automatically send data and alarms via cellular phone networks for remote data collection. dataTaker DT80 Universal Input Data Logger features 5–15  universal analog sensor channels that connect with multiple temperature sensors to continually monitor local bearing temperature. For remote monitoring applications, dataTaker DT80M model is equipped with built-in-cellular modem.
---
Original Press Release:

Data Loggers Monitor Bearing Temperature to Prevent Failure



Wired and Wireless Temperature Monitoring Systems from CAS DataLoggers



CHESTERLAND OH — The condition of the bearings in your industrial equipment is tied to the condition of your machinery and your process itself. Equipment operating at high temperatures or at low speed is prone to premature bearing or gear failure, which can cause a process shutdown costing many hours of lost production. Now CAS DataLoggers can supply your business with wired and wireless temperature monitoring systems for reliable condition monitoring and alarming of bearings in process-critical equipment including compressor motors, turbines and conveyors. If you've never experienced a shutdown caused by sudden equipment failure, you want to keep it that way! Give us a call at (800) 956-4437 and learn more about these solutions.



Use a temperature data logger to monitor the condition of your bearings and help predict failure before it can happen. When temperatures go out of spec, these systems automatically send out text and email alarms warning you of extreme temperatures possibly indicative of imminent bearing failure so your facility has enough notice to take corrective measures and schedule downtime for replacement.



High Temperature is Your Surest Sign of Damage

Whether you're running equipment at slow or high speeds, temperature monitoring is the surest way to detect bearing damage. However, manual methods of inspection can be unreliable and difficult to make time for. Bearings can gradually corrode and deteriorate, developing looseness, faults or skidding without anyone being aware. Especially at low operating speeds, it can be difficult to identify developing problems just by the occasional 'look and listen.' This often means that bearing damage is only noticed after it's already too late, which can cause the equipment to fail and force a critical process shutdown. With this in mind a temperature monitoring system is the most reliable way to help prevent unplanned shutdowns and/or damage to nearby machinery.



CAS DataLoggers can supply your business with temperature data loggers from T&D Corporation and dataTaker. When a bearing fails, its temperature steadily increases, but by continually monitoring and recording temperature data, your facility has the time to take corrective action and avoid the extra cost and repair time necessitated by a bearing failure. Just mount a thermocouple or RTD temperature sensor inside a bearing housing and the data logger will monitor the bearing in real time to alert you whenever its temperature gets high enough to put it at risk.



T&D Wireless Temperature Monitoring Systems

T&D Corporation is Japan's #1 manufacturer of temperature data loggers, known worldwide for their durability and ease of operation. T&D systems are ideal for wireless temperature monitoring of distributed equipment at an affordable price. These data loggers connect with many types of thermocouples and RTDs to take continual readings of bearing temperature and will automatically send out text and email alarms whenever operating temperatures go outside a user-set range.



Automated wireless temperature monitoring is convenient and frees workers up for other tasks. The new T&D RTR-500 Series of Wireless data loggers can automatically send data and alarms via cellular phone networks for remote data collection. These data loggers provide reliable condition monitoring for plants and factories in every industry. T&D RTR-500 Wireless Data Logger Base Stations collect and transmit all bearing temperature data to a PC where it can be viewed at any time.



Get a quick video overview of T&D's wireless dataloggers at http://www.dataloggerinc.com/videos/TandD_final/final/index.php.



Intelligent Data Loggers from dataTaker

DataTaker universal data loggers are all-in-one solutions for facilities with centralized monitoring points. In addition to temperature monitoring, dataTaker systems can connect to many different analog sensors to also monitor pressure (such as hydraulic pressure), current/voltage for energy efficiency, and more.



The flagship dataTaker DT80 Universal Input Data Logger features 5 to 15 universal analog sensor channels that connect with multiple temperature sensors to continually monitor the local bearing temperature. For remote monitoring applications, dataTaker also offers the DT80M model with a built-in-cellular modem. All dataTaker data loggers also feature a built-in web server for remote access anywhere you have an Internet connection. Additionally, datataker systems are incredibly durable and offer years of dependable operation even in hazardous industrial conditions.



Datataker systems also include analysis software to trend bearing temperature recordings against historical performance to detect which bearings are in the initial stage of failure. The popular dataTaker dEX software comes built-in with the datalogger and enables in-depth analysis. This allows you to further avoid bearing damage and also spot areas of substandard equipment performance.



Check out the versatility of the dataTaker DT80 data logger in our YouTube video at http://www.youtube.com/watch?v=dVUDliRoIM8&list=PLPg4H1K--GN8KyulfthUj4zKQx4TcTKKV&index=2.



Don't wait until a sudden bearing failure proves the value of automated temperature monitoring—protect your process today!



For more information on our Wired and Wireless Temperature Monitoring Systems from dataTaker and T&D, or to find the ideal solution for your application-specific needs, contact a CAS Data Logger Applications Specialist at (800) 956-4437 or visit the website at www.DataLoggerInc.com. Contact Information: CAS DataLoggers, Inc. 12628 Chillicothe Road Chesterland, Ohio 44026 (440) 729-2570 (800) 956-4437 sales@dataloggerinc.com www.dataloggerinc.com

More from Software