Data Logger tracks temperature and humidity.
Press Release Summary: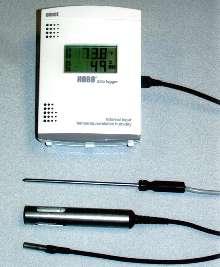 HOBO® LCD Temp/RH Data Logger accepts external temperature and temperature/RH sensors with cables to permit monitoring condensing environments up to 17 m away from instrument. External Temp/RH sensors are available for operating environments ranging from -40 to +167°F, humidity from 0 to 100%, and intermittent condensing environments to 86°F. Logger can be programmed with high and low limit alarm set points. It operates for one year on alkaline batteries.
---
Original Press Release:
HOBO LCD Temp/RH Data Logger with External Sensors Provides Display and Alarms for Condensing Environments

Onset Computer's HOBO® LCD Temp/RH Data Logger is now available in a model that accepts external Temperature and Temperature/RH sensors, extending the unit's monitoring and alarming capability to applications in condensing and intermittently condensing environments. New external sensors with cables permit monitoring condensing or intermittently condensing environments up to 17 meters (Temp/RH) or 6 meters (Temp-only) from the LCD Temp/RH logger, which must be mounted in a non-condensing environment.

External Temp/RH sensors are available for operating environments ranging from -40° to +75°C (-40° to 167°F) and humidity conditions from 0 to 100%. These sensors can be used in intermittent condensing environments to 30°C (86°F). Water-resistant External Temperature sensors are suitable for temperature ranges of -40 to 100°C (-40 to 212°F) and can be immersed in water up to 50°C (122°F) for up to a year. A 4" stainless steel temperature probe with a 2-meter cable is also available.

The HOBO LCD Temp/RH logger operates for approximately one year using off-the-shelf alkaline batteries and features easy-to-read simultaneous displays of temperature and humidity conditions, remaining memory capacity, and battery status. The HOBO LCD Temp/RH logger is also offered with internal temp/RH sensors (for non-condensing environments).

The HOBO LCD data logger, which can be programmed with high- and low-limit alarm set points, displays a local alarm indicating out-of-range temp and/or humidity conditions. Additional alarm capability is provided by a relay output, which communicates alarm conditions to an existing alarm system or to Onset's Remote Alarm/Autodialer units. The system provides an affordable option for operators in manufacturing, processing, and storage environments where reliable data collection and documentation of specific temperature and humidity conditions are critical.

Operation of the HOBO LCD data logger requires the use of Onset's popular BoxCar® Pro for Windows®. The software allows the user to label data sets, establish set measurement durations, launch loggers, retrieve and view data graphically, as well as export data to popular spreadsheet, database or presentation software packages.

Specifications:

External Temperature Sensors

Water Resistant External Temp Probe (L-TMA-M00X)

Range: -40° to 100°C (-40° to 212°F) in air, and up to 50°C (122°F) in water

Sensor tip and cable can be immersed in fresh water up to 50°C (122°F) for 1 year

Accuracy: ±0.7° at 20°C (L/-1.3° at 68°F)

Response time (to 90%): <3 min. in air flow of 1 m/s (2.2 mph); 1 minute typical in stirred water

4" Stainless Steel Temp Probe (L-TMB-M002)

Range: -40° to 100°C (-40° to 212°F)

Sensor tip only is suitable for immersion

Accuracy: ±0.7° at 20°C (±1.30 at 68°F)

Response time (to 90%): <3 min. in air flow of 1 m/s (2.2 mph); 15 sec typical in stirred water

External Temp/RH Probe (S-THA-M00X)

Range: -40° to 75°C (-40° to 167°F); 0-100% RH between 0° and 50°C (32° to 122°F); sensor can be used in intermittent condensing
environments up to 30°C (86°F) and non-condensing environments above 30°C (86°F).

Accuracy:

Temp: ±0.7° at 20°C (±1.3° at 68°F)

RH: ±3% RH over the range of 0° to 50°C (32° to 122°F); ±4% in condensing environments 0° to 30°C (32° to 86°F)

Response time (to 90%): temperature - 8 minutes typical; RH - 5 minutes typical in air flow of 2 m/s

Drift: <0.1°C (0.2°F) temp per year (typical); ±1% RH per year; an additional, reversible RH drift up to 3% can occur when average RH exceeds 70%

Pricing

HOBO LCD Remote Temp/RH Logger $149

Ext. Temp/RH Probe w/2-m cable $125

Ext. Water-Resistant Temp Probe w/2-m cable $45

Ext. 4" Stainless Steel Temp Probe w/2-m cable $85

HOBO LCD Temp/RH Logger w/internal sensors $189

2-Zone Remote Alarm $79

Autodialer $169

About Onset Computer Corp.

Onset Computer Corporation has been producing small, inexpensive, battery-powered data loggers since 1981, and has sold over 600,000 units used throughout the world by more than 25,000 customers. Over 50 models of Onset data loggers measure temperature, humidity, rainfall, wind, barometric pressure, light, AC current, carbon monoxide, 4-20mA, voltage, on/off, open/closed, and events. Onset data loggers are used in a wide range of research, commercial and educational applications including agriculture, forestiy, field biology, food production, manufacturing, transportation, and HVAC. NASA has used HOBOs to measure space suit temperatures during space walks.

Reader Inquiries:

Onset Computer Corporation

Tel: 1-800-LOGGERS (1-800-564-4377), 508-759-9500

Fax: 508-759-9100

Email: sales@onsetcomp.com

Web: www.onsetcomp.com
More from Explosives, Armaments, and Weaponry